JUNE 13 UPDATE: New Line's horror sequel ruled the orcs over the weekend in North America as The Conjuring 2 opened top on a confirmed $40.4m and Warcraft arrived in second place on a dismal $24.4m.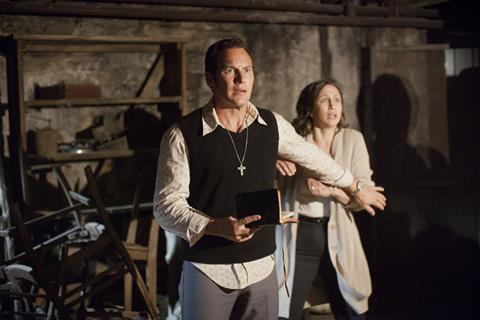 New Line-Warner Bros' horror film helped the top 12 gain 12.5% on last weekend and trailed the July 2013 original by some 6% when the predecessor's $41.9m opening salvo is adjusted for inflation to $43m.
Nonetheless this was a very solid debut for a global-beating property and couples well with the $50m international debut via Warner Bros Pictures International in 44 markets.
Much has been made – and rightly so – of Warcraft in China, where the fantasy has amassed an estimated $156m from its first five days via Dalian Wanda-owned Legendary.
While this combined with the early $105.7m international box office reported by Universal Pictures International on Sunday for $261.7m outside North America, the bombardment of daily updates from Legendary representatives cannot mask the dismal North American debut.
Warcraft opened on $24.4m, a fraction below predictions. For a film that reportedly cost $160m to make and doubtless tens of millions more to market, there is still a long way to go before break-even. With North America dead in the water, Warcraft will need to make at least another couple of hundred million dollars from the international arena before executives can begin to exhale.
Summit Entertainment's Now You See Me 2 opened at number three via Lionsgate on $22.4m. This trailed the predecessor's debut ($29.4m in May 2013) by some 21%. International box office has generated an early $22.8m and buyers will be watching closely after they commenced talks on a third instalment with Lionsgate International's sales team in Cannes.
Last weekend's opening film Teenage Mutant Ninja Turtles: Out Of The Shadows fell to number four and stands at $60.6m through Paramount after two weekends. MGM-New Line's romance Me Before You ranks sixth in its second weekend on Warner Bros on $36.7m and is looking good, given the $20m stated production tag.
Reliance released Bollywood crime thriller Te3n on a lacklustre $258,066 from 104 sites, while Roadside Attractions released Genius starring Colin Firth, Nicole Kidman and Jude Law on $98,274 from 16. A24 achieved a modest debut with De Palma on $30,355 from three theatres.
Box office for the top 12 reached $143.6m and fell 46.4% against the comparable session in 2015, when Jurassic World scored the second biggest debut ever in North America on $208.8m. This week should deliver a big boost to early summer hopes as Buena Vista unleashes Pixar's family sequel Finding Dory voiced by Ellen DeGeneres.
Confirmed top 10 North America June 10-12, 2016
Film (Dist) / Conf wkd gross / Conf total to date
1 (-) The Conjuring 2 (Warner Bros) Warner Bros Pictures International $40.4m
2 (-) Warcraft (Universal) Universal Pictures International $24.4m
3 (-) Now You See Me 2 (Lionsgate) Lionsgate International $22.4m –
4 (1) Teenage Mutant Ninja Turtles: Out Of The Shadows (Paramount) Paramount Pictures International $14.4m $60.6m
5 (2) X-Men: Apocalypse (Fox) Fox International $9.9m $136.3m
6 (3) Me Before You (Warner Bros) Warner Bros Pictures International $9m $36.7m
7 (5) The Angry Birds Movie (Sony) Sony Pictures Releasing International $6.7m $98m
8 (4) Alice Through The Looking Glass (Buena Vista) Walt Disney Studios Motion Pictures International $5.6m $62.5m
9 (6) Captain America: Civil War (Buena Vista) Walt Disney Studios Motion Pictures International $4.3m $396.9m
10 (9) The Jungle Book (Buena Vista) Walt Disney Studios Motion Pictures International $2.8m $352.7m