FEBRUARY 29 UPDATE: Deadpool brought in a further estimated $39.8m from 75 international markets to propel the running total to $324.1m.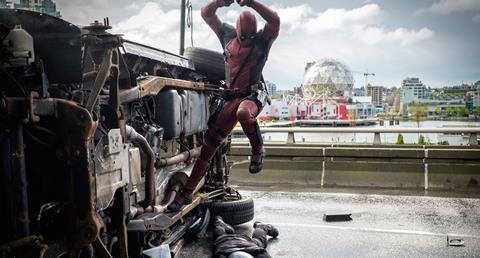 FOX INTERNATIONAL
UPDATE: As the worldwide haul surged to $609.3m factoring in the $285.3m North American haul, the film added $3.7m in South Korea for $18m after two sessions and stayed top in the UK for the third consecutive session on $3.4m for $43.9m.
Deadpool also held on to number one in Germany on $3.1m for $18.3m and stands at $23.6m in Australia, $21.9m in France, $21.1m in Russia, $16.1m in Mexico, $16.1m in Brazil, and $11.7m in Taiwan.
After two weekends, Spain and Italy have generated $7.3m and $6.2m, respectively.
The Revenant, Sunday night's Oscar nominee that earned statuettes for directing, lead actor for Leonardo DiCaprio and cinematography, added $15.1m from 59 for $234.5m and stands at $405.1m worldwide. The survival thriller scored a superb $7.8m number one debut in France.
Alvin and the Chipmunks: The Road Chip added $5.8m from 50 for $139.5m, while DreamWorks Animation's Kung Fu Panda 3 has reached $185.3m. It ranks as the top animation of all time in China, where it has taken $143.8m through Oriental DreamWorks.
The Martian stands at $395.7m, while Fox International Productions' Neerja stayed top in India in the second weekend on $3.2m for $10.7m.
WALT DISNEY STUDIOS MOTION PICTURES INTERNATIONAL
The animation Zootopia grossed $30m in its third weekend from 31 territories to reach $81.4m.
France stands at $16.3m, Mexico $9.3m, Spain $8.1m, Italy $7.1m, South Korea $7m, Argentina $4m. The film opens this week in Germany, Russia and China, followed by Australia on March 17, and the UK a week later.
Star Wars: Episode VII – The Force Awakens added $1.6m for $1.222bn internationally and $2.048bn worldwide. The UK has delivered $181.1m, China $124.2m, Germany $110.2m, Japan $93.7m, and France $88.3m.
ASIA UPDATE
Stephen Chow's The Mermaid added $28m for $485m in China, while The Monkey King grossed $8.5m for $177m. Crouching Tiger, Hidden Dragon II added $5.5m for $36m.
LIONSGATE INTERNATIONAL
UPDATED: Gods Of Egypt starring Gerard Butler and Nikolaj Coster-Waldau complemented the $14m number two North American launch with $24m from its first international weekend in 68 markets.
The fantasy adventure opened top in Russia on $3.8m, the Philippines on $2m. This week brings the South Korean debut.
WARNER BROS PICTURES INTERNATIONAL
UPDATED: How To Be Single took $6.2m from 53 markets for $34.8m and in a pair of second weekend results added $1.5m for $4.4m in Australia, and $1.3m for $5.3m in the UK. France opens this week.
Creed has produced $63.5m and local German titlesDer Geilste Tag opened top on $3.7m including previews.
UNIVERSAL PICTURES INTERNATIONAL
Hail, Caesar! grossed $4.2m from 31 territories to reach $11.7m. The Danish Girl starring best supporting actress Oscar winner Alicia Vikander added $2.9m from 43 for $42.9m, while Ride Along has reached $29.5m, and Room starring best lead actress Oscar winner Brie Larson stands at $2.4m via Universal.
Russian comedy Election Day 2 stands at $11.5m after two weekends. Dad's Army has amassed $11.1m in the UK after four sessions.
SONY PICTURES RELEASING INTERNATIONAL
UPDATED: Sacha Baron Cohen comedy The Brothers Grimsby arrived three weeks ahead of the North American launch and grossed $3.7m from 16 markets. The UK led the way with a $2.7m number two debut including previews.
The 5th Wave added $1.1m from 50 for $70.3m, while Goosebumps used $1.2m from 13 to push the international tally to $75.2m including Village Roadshow markets.
The Mermaid grossed $1.3m from six SPRI markets for an early $14.6m. The film stands at $6.6m in Malaysia where after three weekends it ranks as the second biggest Chinese-language film in history. Vietnam has generated $4m. Overall including China the film stands at $500.5m.
PARAMOUNT PICTURES INTERNATIONAL
UPDATE: Zoolander 2 grossed $3.2m from 46 markets for $21.1m and opened in Mexico at number four on $574,000.
13 Hours has grossed $6.6m, Oscar nominee The Big Short $55.5m and Daddy's Home $87.4m.
SIERRA / AFFINITY
Sunday's best picture Oscar winner Spotlight added $2.9m for a $24.1m international running total. The drama has taken $1.6m in Italy after two weekends and opened in Germany and South Korea on $357,000 and $386,000, respectively.
LIONSGATE INTERNATIONAL
Point Break added $1.8m for a $102.6m running total. Japan has amassed $3.2m via Warner Bros and China remains the most productive market for the film on $39.4m.
STUDIOCANAL UK
A Bigger Splash stands at $1.3m after three sessions, Oscar nominee Room $4.9m after seven, and Youth $1.2m after five.
FILMNATION
Oscar nominee Room added $1.1m from 31 territories to reach $10m.