The Ryan Reynolds-starring superhero film smashed the year's previous highest opener The Revenant.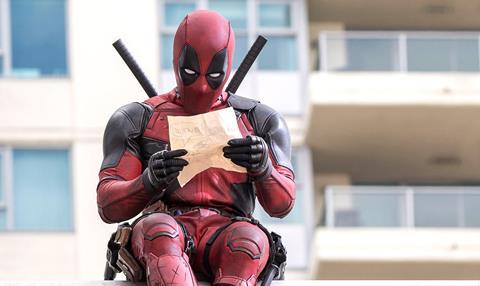 Further results to come…
Fox
Deadpool, starring Ryan Reynolds as the wise-cracking titular superhero, stormed to the top of the UK box office this weekend, posting the year's biggest opening to date with $19.8m (£13.7m) from 545 sites, including $5.6m (£3.7m) from previews.
The film comfortably beat The Revenant's opening tally of $7.5m (£5.2m), previously the year's biggest.
Alejandro Inarritu's film, which won five BAFTAs last night, added $1.04m (£717,000) for a cumulative total of $28.3m (£19.6m).
Other new opener Alvin And The Chipmunks: The Road Chip clocked up a $6.2m (£4.29m) opening from 590 sites, including $2.46 (£1.7m) in previews, putting it slightly behind the franchise's previous entry, 2009's The Squeakquel, which posted $7.74m (£5.35m) including $5.89 (£4m) in previews.
Paramount
Comedy sequel Zoolander 2 clocked up $3.01m (£2.08m) from 477 sites, including $970k (£670k) from previews, for an opening that was almost identical to its predecessor Zoolander, which scored a $3.03m (£2.1m) opening in 2001.
The Big Short added $492k (£340k) for a cume of $6.88m (£4.75m), while Capture The Flag added $103k (£71k) for a $1.6m (£1.11m) total and Daddy's Home added $152k (£105k) for a $24.5m (£16.93m) total.
Sony
Last week's chart-topper Goosebumps added $1.59m (£1.1m) for a total of $6.07m (£4.2m) to date.
New-opener Concussion scored $166,000 (£115,000) from 169 sites.
Universal
Dad's Army added $1.88m (£1.3m) over the weekend for a cumulative total of $7.04m (£4.87m) , while Ride Along 2 added $289,000 (£200,000) for a running total of $7.97m (£5.51m).
New opener Jem And The Hooligans accumulated $12,700 (£8,869) from 106 locations.
Disney
Star Wars The Force Awakens added $630k (£435k) over the weekend, taking its total to $175.7m (£121.4m) to date.
The Good Dinosaur took $221k (£153k) for a cume of $20.7m (£14.3m).
Lionsgate
Dirty Grandpa dropped 40% in its second week, taking $818k (£565k) for a cume of $6.66m (£4.6m).
Pride And Prejudice And Zombies opened to $518k (£358k) from 321 sites, including $94k (£65k) from previews.
Warner Bros
Creed added a further $62k (£43k) for a cume of $8.4m (£5.8m), while Point Break added $149k (£103k) for a $1.05m (£727k) total.
The Iron Giant opened to $17k (£12k) from 100 sites.
StudioCanal
New-opener A Bigger Splash took $502k (£348k) from 101 sites on its debut.
Room added $128k (£89k) for a total of $4.8m (£3.3m), while Youth took $92k (£64k) for a total of $1.02m (£711k).
Entertainment One
Spotlight added $650k (£450k) for a total of $5.3m (£3.65m), while Trumbo added $97k (£67k) to take it to $450k (£312k) overall.
The Green Inferno took $681 (£472) from 3 sites on its opening weekend.
Icon Film Distribution
Family adventure Oddball And The Penguins opened to $34.5k (£23.8k) from 148 sites.