FEBRUARY 29 UPDATE: Fox's smash offered a rare bright spot in a typically slow Oscar weekend, adding an confirmed $31.1m to push itself to $285.3m and stay top for the third consecutive session.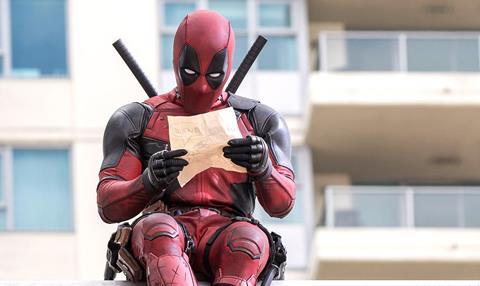 Fox's Ryan Reynolds vehicle has taken $609m worldwide and ruled the international arena on $40.2m.
Lionsgate-Summit's fantasy adventure Gods Of Egypt starring Gerard Butler and Nikolaj Coster-Waldau debuted at number two on a lacklustre $14.1m from 3,117 theatres.
Fox's Eddie The Eagle arrived at number five on $6.11m from 2,042 venues and Open Road's all-star heist thriller Triple 9 opened one place below on $6.08m from 2,205.
Sunday's Oscar winner The Revenant gained 2.2% despite withdrawing from 294 theatres to 1,645 to rank tenth in its tenth weekend on $3.9m for $170.7m via Fox.
Surges by three foreign-language Oscar nominees saw the winner Son Of Saul add $130,592 for $1.3m after 11 weekends through SPC, Embrace Of The Serpent gross $100,344 for $189,286 after two sessions through Oscilloscope Pictures, and Mustang add $33,857 for $721,788 after 15 weekends via Cohen Media Group.
Overall box office for the top 12 fell 22.9% to $96.5m and climbed 3.2% against the comparable session in 2015.
This week's wide releases are: Disney animation Zootopia; Paramount comedy Whiskey Tango Foxtrot; and thriller London Has Fallen through Focus Features.
Confirmed top 10 North America January February 26-28, 2016
Film (Dist) / Conf wkd gross / Conf total to date
1 (1) Deadpool (Fox) Fox International $31.1m $285.3m
2 (-) Gods Of Egypt (Lionsgate-Summit) Lionsgate International $14.1m –
3 (2) Kung Fu Panda 3 (Fox-DreamWorks) Fox International $8.9m $128.4m
4 (3) Risen (Columbia Pictures (Sony Pictures Releasing International) $6.8m $22.5m
5 (-) Eddie The Eagle (Fox) Fox International $6.11m –
6 (-) Triple 9 (Open Road) Sierra / Affinity $6.08m –
7 (4) The Witch (A24) $5.1m $16.7m
8 (5) How To Be Single (Warner Bros) Warner Bros Pictures International $5m $39.5m
9 (6) Race (Focus Features) Universal Pictures International $4.1m $13.7m
10 (9) The Revenant (Fox) Fox International $3.9m $170.7m