JULY 18 UPDATE: Another weekend of records saw Finding Dory become the biggest animation release of all time, while Disney crossed $2bn faster than any studio before it and Sony's Ghostbusters reboot opened in second place.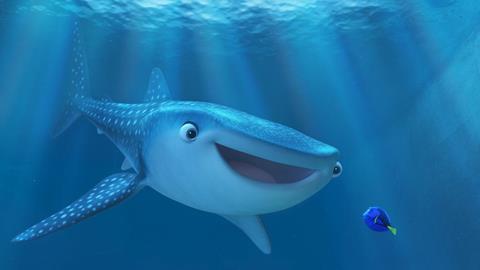 Illumination Entertainment/Universal's The Secret Life Of Pets held on to pole position as a confirmed $50.8m catapaulted it to $203.4m in the second weekend.
The animation fireworks should not totally eclipse a decent if not spectacular $46m number two debut by the Ghostbusters reboot from Columbia Pictures and Village Roadshow.
While that was considerably better than the franchise original, which arrived at number one on $13.6m in 1984 and adjusts to $31.6m, the stated $144m production cost will be cause for concern.
The original's $242.2m final North American gross remains a daunting prospect – even more so when adjusted to $561.9m – however the film could get past $100m and has posted a highly encouraging international start on $19.1m from three major markets and a clutch of smaller locales.
Melissa McCarthy, Kristen Wiig, Leslie Jones and Kate McKinnon star and Paul Feig directed the reboot.
Pixar/Disney's Finding Dory at number four became the biggest animation release in North American history in its fifth weekend on $455.7m.
The film added $11.3m to overtake Shrek 2's long-held record of $441.2m and pushed 2016 overall grosses to date past $2bn for The Walt Disney Studios in a new industry speed record. Last week the studio announced it had crossed $3bn internationally and $5bn worldwide.
The Legend Of Tarzan at number three stands at a lacklustre $103.4m through Warner Bros after three sessions, while The BFG ranks ninth on a highly disappointing $47.4m after three through Buena Vista.
Broad Green opened Bryan Cranston thriller The Infiltrator at number eight on $6.8m and Lionsgate delivered an excellent theatrical launch for Woody Allen's Cannes Film Festival opener Café Society at number 18 on $359,289 from five venues for a $71,858 average. Amazon will release the film via its streaming service after the theatrical run.
Bollywood hit Sultan dropped two places to number 12 on $974,791 for $5.2m.
Overall box office for the top 12 amounted to $155.4m and dropped 25.7% against last weekend and 15.3% against the comparable session in 2015.
This week's wide releases are: Paramount/Skydance's Star Trek Beyond; Blue Sky Studios' Ice Age: Collision Course through Fox; and New Line's horror Lights Out via Warner Bros.
Confirmed top 10 North America July 15-17, 2016
Film (Dist) / Conf wkd gross / Conf total to date
1 (1) The Secret Life Of Pets (Universal) Universal Pictures International $50.8m $203.4m
2 (-) Ghostbusters (Columbia Pictures) Sony Pictures Releasing International $46m –
3 (2) The Legend Of Tarzan (Warner Bros) Warner Bros Pictures International $11.4m $103.4m
4 (3) Finding Dory (Buena Vista) Walt Disney Studios Motion Pictures International $11,3m $445.7m
5 (4) Mike And Dave Need Wedding Dates (Fox) Fox International $7.7m $31.5m
6 (5) The Purge: Election Year (Universal) Universal Pictures International $6.2m $71.1m
7 (6) Central Intelligence (Warner Bros) Universal Pictures International $5.4m $117.6m
8 (-) The Infiltrator (Broad Green Pictures) Sierra/Affinity $5.3m $6.8m –
9 (7) The BFG (Buena Vista) Walt Disney Studios Motion Pictures International / Mister Smith Entertainment $3.8m $47.4m
10 (8) Independence Day: Resurgence (Fox) Fox International $3.5m $98.6m