JAN 1 UPDATE: Star Wars: The Force Awakens – already Disney's biggest film in North America since Thursday – is on the cusp of being crowned the biggest release of 2015.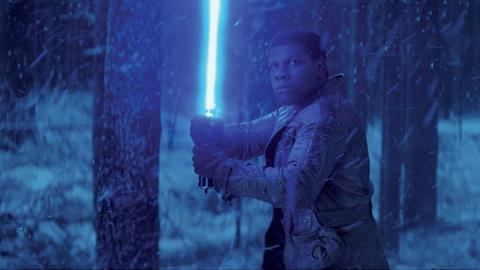 Studio executives said on Friday the space opera added an estimated $22.9m in North America on Thursday to scale $652m.
Once actual numbers are confirmed they expect it to overtake the $652.3m established earlier this year by Jurassic Word and become the biggest release of the year.
The next target is Titanic's $658.7m from 1997. When The Force Awakens overhauls that mark on Friday it will rank as second biggest release of all time in North America behind Avatar's $760.5m from 2010.
The Force Awakens crossed $650m in a North American record 14 days and stands at $1.33bn worldwide as of Friday.
STAR WARS: THE FORCE AWAKENS
Biggest Disney release of all time in North America
Biggest North American opening weekend and three-day gross $247.9m
Biggest Imax debut $30.1m
Biggest opening week $391.1m
Biggest Thursday preview $57m
Biggest Friday opening day and single day $119.1m
Biggest Sunday $60.5m
Biggest Monday $40.1m
Biggest Tuesday $37.3m
Biggest Christmas Day $49.3m
Biggest second weekend $149.2m


Fastest to cross $100m (one day)
Fastest to cross $150m (two days)
Fastest to cross $200m (three days)
Fastest to cross $250m (four days)
Fastest to cross $300m (five days)
Fastest to cross $350m (six days)
Fastest to cross $400m (eight days)
Fastest to cross $450m (nine days)
Fastest to cross $500m (ten days)
Fastest to cross $550m (11 days)
Fastest to cross $600m (12 days)
Fastest to cross $650m (14 days)