Twentieth Century Fox broke industry global and international box office records in 2014 as co-heads of worldwide theatrical marketing and distribution Paul Hanneman and Tomas Jegeus announced combined grosses of more than $5.5bn and $3.73bn, respectively.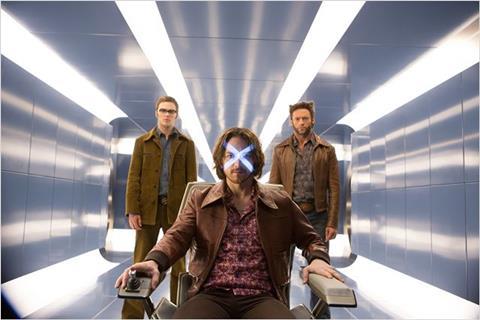 The global haul beat by more than $350m the previous $5.17bn industry mark set by Paramount in 2011. Local language titles played their part, grossing more than $170m. The North American tally came to $1.79bn for a new Fox record.

"This was a remarkable year for our studio, thanks to the talent of our filmmakers and our teams' incredible work ethic, devotion and spirit," the co-presidents said in a joint statement. "We are all very proud of this success and look forward to an even brighter 2015 and beyond."

The $3.73bn international tally exceeded the previous $3.21bn industry mark set by Paramount in its 2011 banner year by more than $500m and marks the fourth time in the last six years that studio has led the rankings.

X-Men: Days Of Future Past (pictured) led the line on $748m worldwide, of which $514m came from international markets and $233m from North America, while Dawn Of The Planet Of The Apes amassed $709m globally, $500m internationally and $209m from North America.

Thirteen international releases crossed the $100m mark and apart from the aforementioned pair of $500m-plus titles, two passed the $300m mark: Dreamworks Animation's How To Train Your Dragon 2 ($355m) and Rio 2 ($368.7m)

The Maze Runner finished on more than $238.2m and a further four are projected to cross $200m,, albeit in 2015. They are: Gone Girl, Dreamworks Animation's Penguins Of Madagascar, Exodus: Gods And Kings and Night At The Museum: Secret Of The Tomb.

The Fault In Our Stars finished on $180m internationally and $304m worldwide, while The Grand Budapest Hotel took $115m internationally. The Other Woman finished on $112.9m internationally and $197m worldwide.

Besides the $200m-plus performances of X-Men: Days Of Future Past and Dawn Of The Planet Of The Apes, eight North American releases passed $100m including Gone Girl, The Maze Runner, Rio 2, The Fault In Our Stars, How To Train Your Dragon 2 and Mr. Peabody & Sherman.

Local language titles releases through Fox International, which include Fox International Productions films and third-party picks-ups, generated more than $170m in 2014.

They include Bang Bang on $40.3m, El Nino on $21.2m, Humshakals on $13.7m, Yolki 3 (2013) on $12.7m, Slow Video on $8.4m and Doktorspiele on $6.9m.

Finding Fanny grossed $6.8m, Kiss Them All 2 (Gorko 2) $6.6m, Twa-Tiu-Tiann $6.4m, Rico, Oskar Und Die Tieferschatten $5.5m, Guten Tag, Ramon $5m and El Crimen Del Cacaro Gumaro $4.7m.

Copa De Elite took $3.5m, Starred Up $2.5m, Hin Und Weg $2.48m and Supercondriaque $2.45m.