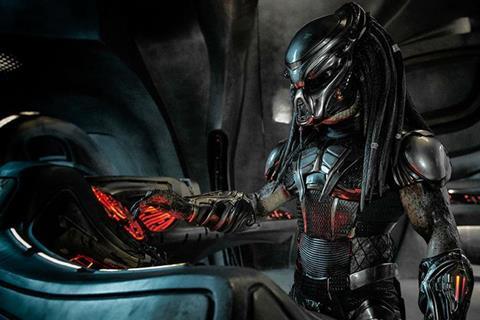 SEPTEMBER 17 UPDATE: Shane Black's action reboot The Predator returned to its North American hunting ground on a confirmed $24.6m through Fox and pushed Warner Bros' horror hit The Nun into second place on $18.2m in its second weekend.
The Predator arrived in 4,037 theatres 31 years after Arnold Schwarzenegger took arms against the alien warriors in John McTiernan's original tentpole. Olivia Munn, Jacob Tremblay, Sterling K. Brown and Trevante Rhodes star in the new story about a boy who accidentally enables the lethal predator hunters to return to earth, where a scratch unit is dispatched to save the human race.
The Nun fell 66.1% - a heavy drop by non-horror standards although not unusual for the genre, when fanboys tend to flock to the cinema on opening weekend. An $18.2m weekend raised the running total to $85.1m.
Lionsgate's crime mystery A Simple Favor with Anna Kendrick and Blake Lively opened at number three on a solid $16m from 3,102 sites, while Yann Demange's '71 follow-up White Boy Rick starring Matthew McConaughey from Studio 8 arrived in fourth place through Sony on $8.9m from 2,504.
Pure Flix broke into the top 10 with the faith-based drama Unbroken: Path To redemption at number 10 on $2.2m from 1,620.
Vitagraph films opened Alonso Ruizpalacios' Mexico City heist film Museo starring Gael Garia Bernal and Leonardo Ortizgris in a single venue on $16,554. The film denbuted at number 54 and will open later in the year on YouTube Premium and as revealed exclusively on Screen is the first Spanish-language YouTube Original film.
Box office for the top 12 generated $97.4m, down 10.7% on last weekend and down 5.9% against the comparable session in 2017.
This week's wide releases are: Universal's fantasy The House With A Clock In Its Walls starring Cate Blanchett and Jack Black; Amazon Studios' drama and recent TIFF world premiere Life Itself; another TIFF world premiere in the form of Michael Moore's polemic Fahrenheit 11/9 through Briarcliff Entertainment.
This week's wide releases are: New Line's horror The Nun via Warner Bros; action thriller Peppermint starring Jennifer Garner through STX; and drama God Bless The Broken Road through Freestyle Releasing.
Confirmed top 10 North America Sept 14-16, 2018
Film (Dist) / Conf wkd gross / Conf total to date
1 (-) The Predator (Fox) Fox International $24.6m –
2 (1) The Nun (Warner Bros-New Line) Warner Bros Pictures International $18.2m $85.1m
3 (-) A Simple Favor (Lionsgate) Lionsgate International $16m –
4 (-) White Boy Rick (Sony) Sony Pictures Releasing International $8.9m –
5 (3) Crazy Rich Asians (Warner Bros) Warner Bros Pictures International $8.7m $149.5m
6 (2) Peppermint (STX) STX International $6m $24.2m
7 (4) The Meg (Warner Bros) Warner Bros Pictures International $3.9m $137.1m
8 (5) Searching (Sony) Sony Pictures Releasing International $3.2m $19.6m
9 (6) Mission: Impossible – Fallout (Paramount) Paramount Pictures International $2.3m $216.1m
10 (-) Unbroken: Path To Redemption (Pure Flix) Pure Flix International $2.2m –