Universal's North American portion of global domination generated a confirmed $147.2m as the action release stormed to the top.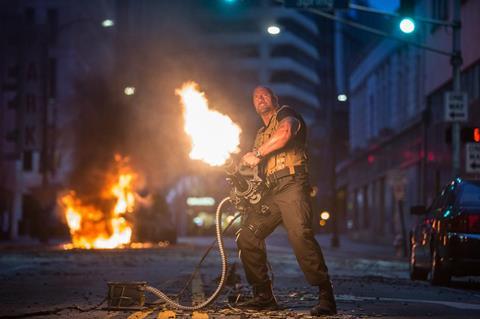 Furious 7 scored the biggest opening weekend of the franchise and overtook Clash Of The Titans ($61.2m, 2010) for a record Easter debut and last year's Captain America: The Winter Soldier ($95m) for the highest April launch.
The film, starring the late Paul Walker, Vin Diesel, Michelle Rodriguez, Dwayne Johnson, Jordana Brewster, Tyrese Gibson and Ludacris, delivered a $392.2m global launch.
Furious 7 powered the session to a 53.1% climb on last weekend and a 27% gain on the comparable period in 2014, when The Winter Soldier opened top. Furious 7 climbed approximately 33% against the $98.1m inflation-adjusted launch of Fast & Furious 6 in May 2013 ($97.4m unadjusted).
The Weinstein Company opened Helen Mirren starred Woman In Gold in seventh place on a middling $2.1m from 258 venues, while corporate sibling RADiUS-TWC continued to prosper with It Follows.
The buzzy horror fell one place to number five after expanding by 437 venues into 1,655 in the fourth weekend, adding $2.5m for $8.6m.
Last weekend's champion Home from DreamWorks Animation fell to second place on $27m via Fox for $95.2m after two sessions.
Warner Bros' comedy Get Hard slipped to number three and has reached $57.2m after two as Disney's Cinderella held firm at number four to reach $167.1m.
Lionsgate-Summit's Insurgent at number five crossed $100m in its third session via Lionsgate as $10.1m boosted the tally to $103.5m. The global haul has reached $223.7m.
China Lion opened Let's Get Married on $180,000 from 39 sites, while Ripple Effect debuted David And Goliath on $161,000 from 31. IFC release 5 To 7 on $18,006 from two and SPC opened Lambert & Stamp on $13,500 in three.
This week's wide release is Fox's romance The Longest Ride starring Britt Robertson, Scott Eastwood and Jack Huston.
Confirmed top 10 North America Apr 3-5 2015
Film (Dist) / Conf wkd gross / Conf total to date
1 (-) Furious 7 (Universal) Universal Pictures International $147.2m
2 (1) Home (Fox-DreamWorks Animation) Fox International $27m $95.2m
3 (2) Get Hard (Warner Bros) Warner Bros Pictures International $13.1m $57.2m
4 (4) Cinderella (Buena Vista) Walt Disney Studios Motion Pictures International $10.2m $167.1m
5 (3) The Divergent Series: Insurgent (Lionsgate-Summit) Lionsgate International $10.1m $103.5m
6 (5) It Follows (RADiUS-TWC) Visit Films $2.5m $8.6m
7 (-) Woman In Gold (TWC) TWC International $2.1m —
8 (6) Kingsman: The Secret Service (Fox) Fox International $1.8m $122.4m
9 (7) Do You Believe? (Freestyle) PureFlix $1.5m $9.9m
10 (9) The Second Best Exotic Marigold Hotel (Fox Searchlight) Fox International $1.1m $30.1m