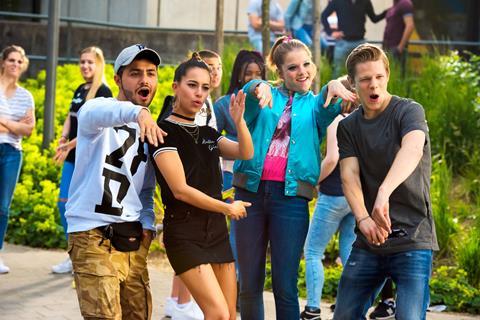 It may have been the absence of a major sporting event or the mediocre summer weather that has led to Germany's distributors and exhibitors making more positive noises than a year ago.
In fact, the German market proved to be going in the opposite direction to the US box office, which had its worst results for more than a decade. ComScore's figures for the year to mid-November show a 5.6% rise in box office compared with the same period in 2016, and a 3.6% rise in admissions, from 90.8 million to 94.1 million.
While the 2016 German box office was dominated by Hollywood studio titles led by Rogue One: A Star Wars Story, the top local film, Welcome To Germany, managed only seventh place. But it has been a different story in 2017.
Munich-based Constantin Film enjoyed runaway success with the third and final outing of its Suck Me Shakespeer (Fack Ju Göhte) franchise. Bora Dagtekin's school comedy, which has made leading man Elyas M'Barek a household name in Germany, delivered the second-best opening of all time for Constantin (1.72 million tickets sold) and had reached 5.3 million admissions after four weeks. It didn't take long for the film to usurp Despicable Me 3's crown as 2017's highest-grossing title, with total box office of more than $57.3m by the end of November.
Constantin also flew the flag for local cinema with other releases, such as Windstorm 3 and Das Pubertier, as well as the regional Bavarian hit Griessnockerlaffäre. Around 16 million tickets were sold for German films in the first three quarters of 2017, which translated into a 19.5% market share of admissions and 16.7% of box-office takings, although these figures are sure to be higher when the final figures are collated at the end of December now that Suck Me Shakespeer 3 has conquered the cinema screens.
The film's success helped Constantin to a 9% market share, placing it fourth behind a trio of US studio distributors. Universal Pictures International came out top with a 17.3% box office share, spearheaded by Despicable Me 3.
Walt Disney Studios came second with a 14.9% share, powered by Beauty And The Beast, although its year-end result will receive a boost when Star Wars: The Last Jedi opens on December 14.
Warner Bros (14.4%) closely followed Disney, with its Stephen King adaptation It becoming the fourth most-successful release of 2017, while the US major's local title, Bullyparade: The Movie, directed by and starring Michael 'Bully' Herbig reprising characters from his local TV show, made it to tenth place.
To date, 2017 has had its surprises: Paramount's Baywatch had its most successful international release in Germany, taking $18.3m of the total foreign gross of $120m. Wonder Woman, War For The Planet Of The Apes, reboots of Spider-Man and The Mummy, and X-Men spinoff Logan all underperformed in Germany, compared with other territories.
The top 25 films in Germany
Jan 5-Nov 29