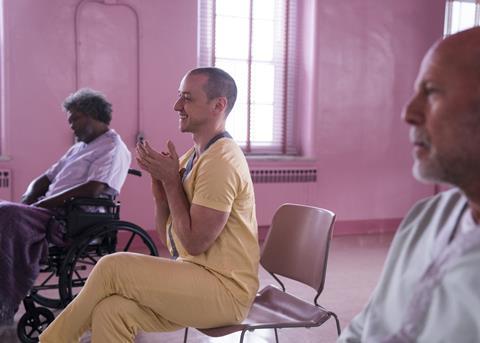 JANUARY 28 UPDATE: Glass had no trouble holding on to its North American box office crown in a weak session overall in which Green Book, The Favourite and Cold War capitalised on their Oscar nominations.
Fox's family adventure The Kid Who Would Be King starring Patrick Stewart debuted at number four on $7.2m in 3,521 theatres, while the thriller Serenity starring Matthew McConaughey and Anne Hathaway disappointed in eighth place on $4.4m in 2,561 venues via Aviron.
M Night Shyamalan's Glass, distributed through Universal in North America, added $18.9m to reach $73,6m after two weekends. It is the global box office champion too and brought in $42.7m overall for a $162.7m running total.
Kevin Hart and Bryan Cranston comedy The Upside held film at number two, adding $11.9m for $62.8m after three sessions, and Warner Bros / DC Entertainment's global smash Aquaman stayed at number three in its sixth session, adding $7.3m for $316.5m.
Amblin / Participant's Green Book, nominated for five Oscar nods last week, was a clear beneficiary from Academy love. Universal expanded the theatre count from 912 to 2,430 and the drama starring Viggo Mortensen and Mahershala Ali surged eight slots to number six, adding $5.5m for $49.1m in the 11th weekend.
The Favourite, which leads the Oscar nominees with ROMA on 10 nods, climbed four places to number 14 in its 10th session, expanded through Fox Searchlight from 517 venues to 1,540 and raised the running total by $2.5m to $26.1m. Cold War, distributed by Amazon Studios, expanded from 39 sites to 111 in its sixth session and added $552,420 for $1.4m and fell one place to number 25. The film earned three Oscar nods last week.
SPC launched Florian Henckel Von Donnersmarck's Oscar-nominated German drama Never Look Away in a single venue and the drama ranked 49th on $25,789.
Box office for the top 12 combined for $79.8m, down 30.6% on last weekend and down 27.8% on the comparable session in 2018. This week's wide release is Sony's thriller Miss Bala.
Confirmed top 10 North America Jan 25-27, 2019
Film (Dist) / Conf wkd gross / Conf total to date
1 (1) Glass (Universal) Buena Vista International $18.9m $73.4m
2 (2) The Upside (STX) STX International $11.9m $62.8m
3 (3) Aquaman (Warner Bros) Warner Bros Pictures International $7.3m $316.5m
4 (-) The Kid Who Would Be King (Fox) Fox International $7.2m –
5 (5) Spider-Man: Into The Spider-Verse (Sony) Sony Pictures Releasing International $6.1m $169m
6 (14) Green Book (Universal) Lionsgate International / Amblin $5.5m $49.1m
7 (6) A Dog's Way Home (Sony) Sony Pictures Releasing International $5.1m $30.7m
8 (-) Serenity (Aviron) $4.4m –
9 (7) Escape Room (Sony) Sony Pictures Releasing International $4.1m $47.8m
10 (8) Mary Poppins Returns (Buena Vista) Walt Disney Studios Motion Pictures International $3.3m $165.2m