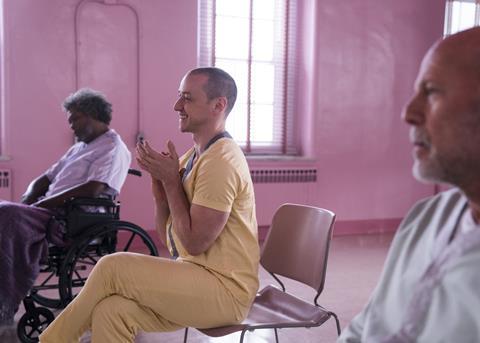 JANUARY 21 UPDATE: M Night Shyamalan's Glass opened top of the North American charts in an estimated $47m through Universal to score the third highest four-day launch over any Martin Luther King Jr holiday weekend.
Fox's Japanese fantasy animation Dragon Ball Super: Broly struck a blow for anime as it arrived in third place on an excellent $11.5m over four days in 1,233 sites. It has grossed $21.9m over six days and approximately $66m outside North America through Fox International.
Glass, Shyamalan's finale of his Eastrail 177 genre trilogy, opened in 3,841 theatres and the three-day $40.5m haul was on a par with the $40m debut of Split exactly two years ago, and marginally behind the $41.4m number when adjusted for inflation. The $47m four-day result over MLK ranks only behind Warner Bros' The Sniper on $107.2m, and Universal's Ride Along on $48.6m.
James McAvoy reprises his role from Split, while Samuel Jackson and Bruce Willis return from Unbreakable, which for the record opened in November 2000 on $30.3m, which amounts to $43.7m in real terms. Glass was the top global earner of the weekend and Buena Vista International distributes outside North America.
DC Entertainment's smash Aquaman crossed $300m in its fifth session, adding $12.6m for $306.6m through Warner Bros. Of note was the second session of STX's comedy remake The Upside starring Kevin Hart and Bryan Cranston, which added $18.4m for $46.7m. Sony's A Dog's Way Home also held well in its second weekend on $9.6m for $23.8m and ranks sixth.
Mary Poppins Returns at number eight added $6.7m via Buena Vista for $160.2m and has passed the $151m lifetime total of La La Land to rank as the fifth highest live-action musical of all time in North America. Focus Features' Ruth Bader Ginsburg drama On The Basis Of Sex starring Felicity Jones and Armie Hammer dropped two slots to number 10 and stands at $17.6m after four.
Vice is performing well for Annapurna Pictures despite dropping five places to number 15 on $2.1m for $39.5m after four weekends.
The top 12 combined for $115.3m over the three-day portion of the weekend, up 12.6% on last weekend and up 3.8% against the comparable session in 2018. This week's wide releases are: Fox's family adventure The Kid Who Would Be King; and thriller Serenity starring Matthew McConaughey and Anne Hathaway through Aviron.
Estimated top 10 North America Jan 18-20 / 18-21, 2019
Film (Dist) / Est wkd gross / Est total to date
1 (-) Glass (Universal) Buena Vista International $40.5m / $47m –
2 (1) The Upside (STX) STX International $15m $43.3m / $18.4m $46.7m
3 (2) Aquaman (Warner Bros) Warner Bros Pictures International $10.2m $304.2m / $12.6m $306.6m
4 (-) Dragon Ball Super: Broly (Fox) Fox International $9.8m $20.2m / $11.5m $21.9m
5 (4) Spider-Man: Into The Spider-Verse (Sony) Sony Pictures Releasing International $7.6m $158.6m / $9.8m $160.8m
6 (3) A Dog's Way Home (Sony) Sony Pictures Releasing International $7.2m $21.4m / $9.6m $23.8m
7 (5) Escape Room (Sony) Sony Pictures Releasing International $5.6m $41m / $6.8m $42.2m
8 (6) Mary Poppins Returns (Buena Vista) Walt Disney Studios Motion Pictures International $5.3m $158.7m / $6.7m $160.2m
9 (7) Bumblebee (Paramount) Paramount Pictures International $4.8m $116m / $5.8m $117.1m
10 (8) On The Basis Of Sex (Focus Features) Universal Pictures International $3.9m $16.8m / $4.6m $17.6m