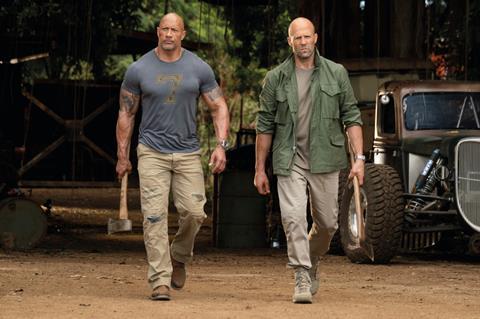 After two Disney films and one from Sony crossed the $1bn threshold in the past week, it is time for Universal's Hobbs & Shaw to shine at the box office and the high-octane tentpole is expected to deliver a global day-and-date opening weekend in the $190m-$200m range.
The Fast franchise spin-off stars Dwayne Johnson, Jason Statham, Idris Elba and Vanessa Kirby and is forecast to deliver some $130m-$140m from 64 markets, where the UK, Australia, Brazil, Mexico, Germany, and Russia will be among the weekend highlights.
Hobbs & Shaw ventures into China on August 23 – a critical market for the franchise these days as is increasingly becoming the case – and France and Italy next week, and South Korea on August 14. Before that, however, the action thriller that stars Johnson and Statham as bickering operatives who must thwart Elba's diabolical terrorist will have plenty to sink its teeth into this weekend.
Among the first out of the gate were the UK, Australia, Germany, Brazil, Russia and Spain on August 1. All eyes will be on how well the spin-off can gain traction in these markets. While it is not expected to match the huge grosses of the last two films – the highest-grossing in the 19-year-old Fast universe – Universal Pictures International executives will be looking for headline-grabbing performances in each market.
By way of comparison, 2017 tentpole The Fate Of The Furious roared into the UK on $17.5m en route to a $37.5m final gross, and arrived in Australia on $9.6m ($21.4m), Germany on $13.7m ($32.5m), Brazil on $12.9m (finishing on a remarkable $41.9m), Russia on $14.3m ($28.8m), and Spain on $6.1m ($15.5m).
Friday brings another big wave, among them Japan (Fate opened on $7.7m and finished on $35.6m), Mexico ($17.7m, $36.3m), and Taiwan ($9.3m, $21.4m). Of course the giant is China, where Fate debuted on $184.9m and went on to amass $392.8m. Overall the eighth entry in the series grossed $1bn internationally and $1.2bn worldwide. 2015 release Furious 7 is the franchise king on $1.2bn and $1.5bn at international and worldwide box office, respectively.
Disney's annus mirabilis continues apace after The Lion King became the fourth release from the studio to cross the $1bn global threshold earlier this week and stands at $686.4m internationally, and $1.07bn worldwide.
Aladdin achieved the same feat last week and has mustered $669.7m internationally, and $1.017bn worldwide. Toy Story 4 has grossed $535.1m from international markets, and $936.6m globally.
Spider-Man: Far From Home became the first Spider-Man film to cross $1bn at the global box office last week. The Tom Holland stand-alone superhero saga has generated $705.3m internationally through Sony Pictures Releasing International, and $1.056bn globally.
Lionsgate International's Keanu Reeves action sequel John Wick: Chapter Three – Parabellum crossed $150m through Lionsgate International licenses this week (July 30) and stands at $319.9m worldwide.
Latest updates from Warner Bros Pictures International put Annabelle Comes Home at $141.2m and $211.7m worldwide – some way behind the other Annabelle instalments, with 2017's Annabelle Creation finishing on $204.4m internationally and $306.5m globally, and 2014's Annabelle grossing $172.8m at international and $257m at global box office. Pokémon Detective Pikachu has reached a $287.3m international running total, and $431m from the worldwide box office.