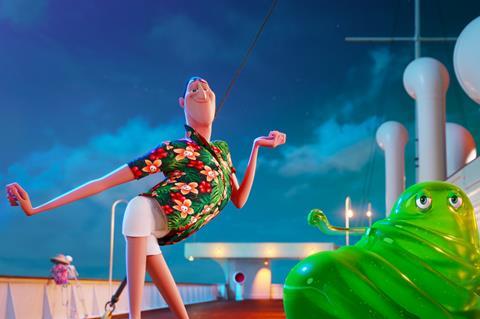 JULY 16 UPDATE: Sony's Hotel Transylvania 3: Summer Vacation beat Skyscraper from Universal and Legendary to take the North American box office crown with an estimated $44.1m, as Focus Features' Won't You Be My Neighbor? became the highest grossing documentary of the year-to-date, and Eighth Grade scored the highest per-site average so far this year.
Featuring a voice cast led by Adam Sandler, Selena Gomez, and Andy Samberg, Sony Pictures Animation's Hotel Transylvania 3 arrived in 4,267 theatres. It delivered the lowest debut of the series when the opening weekends of the previous two instalments are adjusted for inflation.
Hotel Transylvania 2 arrived on $48.5m in September 2015 ($51.4m), while the $42.5m debut by the September 2012 original adjusts to $46.3m.
Skyscraper starring Dwayne Johnson as a security expert who must save his family from a burning building in Hong Kong underperformed against expectations, debuting at number three on $24.9m in 3,782 sites.
Marvel Studios' Ant-Man And The Wasp fell 61.6% and one slot to number two on $29.1m for $133.1m after two weekends. Also in its second session, Blumhouse's The First Purge fell 46.4% and two places to sixth on $9.3m for $49.7m.
Sundance entry Sorry To Bother You, a wild social satire starring Lakeith Stanfield (Amazon Studios' Atlanta, Get Out) and Tessa Thompson (Dear White People, Thor: Ragnarok, HBO's Westworld) surged 478.7% and nine slots to number seven after Annapurna increased the theatre count from 16 to 805, adding $4.2m for $5.3m after two sessions.
It was a notable weekend overall for several limited releases or films playing in fewer theatres. A24 opened Sundance teen comedy Eighth Grade at number 23 on $263,797 from four for a $65,949 average – the highest of 2018 so far.
Morgan Neville's acclaimed Won't You Be My Neighbor? has become the highest grossing documentary of the year-to-date as it added $1.9m for $15.9m via Focus Features in its sixth weekends. The film about popular children's TV host Fred Rogers fell two places to number 11. Focus sources said the film ranks 16th in the all-time documentary box office pantheon.
Sony Pictures International Productions' Hindi-language sports drama Soorma, based on the life of hockey player Sandeep Singh, arrived at number 26 on $168,354 in 50 sites, while Amazon Studios opened Don't Worry He Won't Get Far On Foot, Gus van Sant's biopic of quadriplegic cartoonist John Callahan starring Joaquin Phoenix, at number 31 on $83,339 in four.
Top 12 box office combined for $157.3m, down 12.3% against last weekend, and down 0.5% against the comparable session in 2017.
This week's wide releases are: Universal's musical sequel Mamma Mia: Here We Go Again! starring Amanda Seyfried, Meryl Streep, Colin Firth, Pierce Brosnan, Stellan Skarsgaard, Christine Baranski, Lily James, Dominic Cooper, Julie Walters, and Cher; Denzel Washington crime thriller The Equalizer 2 via Columbia Pictures; and thriller Unfriended: Dark Web via BH Tilt.
Confirmed top 10 North America July 13-15, 2018
Film (Dist) / Conf wkd gross / Conf total to date
1 (-) Hotel Transylvania 3: Summer Vacation (Columbia Pictures) Sony Pictures Releasing International $44.1m $45.4m
2 (1) Ant-Man And The Wasp (Buena Vista) Walt Disney Studios Motion Pictures International $29.1m $133.1m
3 (-) Skyscraper (Universal-Legendary) Universal Pictures International $24.9m –
4 (3) Incredibles 2 (Buena Vista) Walt Disney Studios Motion Pictures International $16.3m $535.9m
5 (2) Jurassic World: Fallen Kingdom (Universal) Universal Pictures International $16.2m $363.9m
6 (4) The Purge (Universal) Universal Pictures International $9.3m $49.7m
7 (16) Sorry To Bother You (Annapurna) $4.2m $5.3m
8 (5) Sicario: Day Of The Soldado (Columbia Pictures) Lionsgate International /Sony Pictures Releasing International $3.9m $43.2m
9 (6) Uncle Drew (Lionsgate-Summit) Lionsgate International $3.2m $36.7m
10 (7) Ocean's 8 (Warner Bros) Warner Bros Pictures International $2.9m $132.3m