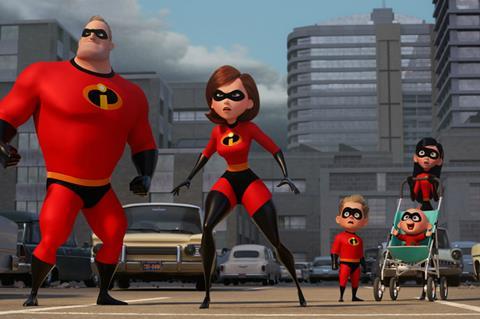 JUNE 18 UDATE: After a 13-and-a-half-year hiatus a beloved Pixar franchise proved the old adage that absence makes the heart grow fonder as Incredibles 2 arrived on a confirmed $182.7m to deliver the highest debut for an animated feature and a PG release in North American box office history.
Active in 4,410 theatres, the family smash delivered an exceptional $41,426 as the overall weekend gross more than doubled the November 2004 original's $70.5m opening salvo and nearly did the same when compared to the $92.9m inflation-adjusted equivalent.
Voiced by Holly Hunter, Craig T. Nelson, Samuel Jackson, director Brad Bird and Catherine Keener, Incredibles 2 was good enough to rank as the eighth highest opening weekend in history. Nine out of the 10 highest debuts in history now belong to Disney. The new release also produced the second highest June debut behind only Jurassic World – a ranking that could well drop one place down the order when Jurassic World: Fallen Kingdom arrives this week.
According to Disney executives, the audience for Incredibles 2 comprised 52% female and 48% male. Predictably families accounted for a 57% majority of film-goers, followed by adults on 31% and teens on 11%. The dominant age bracket was 11 and under on 26%, then 25-34 on 20%, 35-49 on 17%, 17-24 on 16%, and 12-16 on 14%. The 2D-3D divide resulted in 87%-13%.
Warner Bros' comedy Tag starring Jon Hamm, Ed Helms, Isla Fisher and Jeremy Renner debuted in third place on $14.9m from 3,382 sites, while Columbia's Superfly remake starring Trevor Jackson arrived in sixth place on $6.9m from 2,220, rising to $9m after five days.
Warner Bros' Ocean's 8 slid 54.4% to number two in its second session on $18.9m for $78.6m, while Buena Vista's Solo: A Star Wars Story is closing in on $200m and ranks fourth on $193.8m after four weekends. Fox's Deadpool 2 at number five stands at $294.6m after five.
A24's horror release Hereditary starring an acclaimed Toni Collete ranks fourth following a 49.5% slide two places to number six, and added $6.9m for $27m.
Crime biopic Gotti starring John Travolta opened through Vertical Entertainment at number 11 on $1.72m from 503, while Yash Raj launched Race 3 in 12th place on $1.69m from 314.
A Wrinkle In Time is on the cusp of $100m in its 15th weekend in release after Buena Vista expanded the theatre count by 88 to 245. A $1.7m weekend haul boosted the tally to $99.9m as the fantasy adventure climbed 17 places to number 13.
Top 12 box office generated $261.9m, up 133.3% on last weekend and up 43% on the comparable session in 2017. This week's wide release is Jurassic World: Fallen Kingdom.
Confirmed top 10 North America June 15-17, 2018
Film (Dist) / Conf wkd gross /Conf total to date
1 (-) Incredibles 2 (Buena Vista) Walt Disney Studios Motion Pictures International $182.7m –
2 (1) Ocean's 8 (Warner Bros) Warner Bros Pictures International $18.9m $78.6m
3 (-) Tag (Warner Bros) Warner Bros Pictures International $14.9m –
4 (2) Solo: A Star Wars Story (Buena Vista) Walt Disney Studios Motion Pictures International $10m $193.8m
5 (3) Deadpool 2 (Fox) Fox International $8.7m $294.6m
6 (-) Superfly (Columbia Pictures) Sony Pictures Releasing International $6.9m $9m
7 (4) Hereditary (A24) A24 $6.9m $27m
8 (5) Avengers: Infinity War (1) (Buena Vista) Walt Disney Studios Motion Pictures International $5.3m $664.2m
9 (6) Adrift (STX) STX International $2.1m $26.8m
10 (7) Book Club (Paramount) Bloom $1.9m $62m