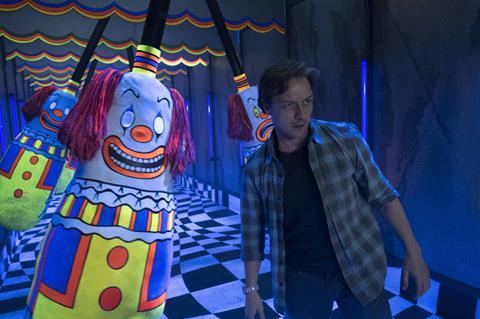 Warner Bros' It: Chapter Two grossed the second highest global launch for a horror film on a confirmed $185.1m over the weekend, placing behind the 2017 original on $189.7m.
Opening in 75 international markets on $94m, studio executives said the new instalment starring Jessica Chastian, James McAvoy, Bill Hader and Bill Skarsgård finished virtually on par with It's launch at today's exchange rates in like-for-like markets. The North American debut produced $91m, compared to $123.4m two years ago.
Chapter Two delivered the biggest horror opening weekend of all time in 16 markets including Russia ($8.8m, RUB 585m) and the entire Eastern Europe region), UAE, Holland, Norway, Finland and Argentina ($1.5m, ARS 90.7m).
This was also Warner Bros' biggest opening weekend of the year-to-date in 44 markets including the UK ($8.9m, £7.4m), Germany ($7.1m, €6.5m), Russia, Spain ($3.2m, €2.9m), Sweden, Denmark, Argentina, Mexico ($9.8m, Ps 197.4m) and Australia ($4.3m, A$6.4m). In the UK and Germany it ranks as the second highest horror launch ever, behind It.
By region, It: Chapter Two delivered the biggest Warner Bros opening weekend in 2019 in Europe and Latin America, and surpassed the launch of It by 8% in Asia.
Italy produced $5.5m (€5m) for the second highest horror launch ever behind It; Brazil generated $4.4m (R$ 18.3m); South Korea $3m (Won 3.6bn); and Indonesia $2.7m (IDR 38.1bn). The horror enters France this week, with Japan the final market on November 1.
For Universal Pictures International, Hobbs & Shaw added $16m for a $556.7m international running total, and stands at $721.1m worldwide.
Sony Pictures Releasing International brass reported that Quentin Tarantino's Once Upon A Time… In Hollywood grossed $13.5m to reach $175.3m, and $310.6m at the global box office.
Disney's The Lion King is up to $1.599bn globally and ranks as the seventh highest release of all time at the international ($1.069bn) and global box office.
Toy Story 4 has grossed $1.053bn worldwide and is the fifth highest animated release at the box office. It has amassed $621.5m internationally.