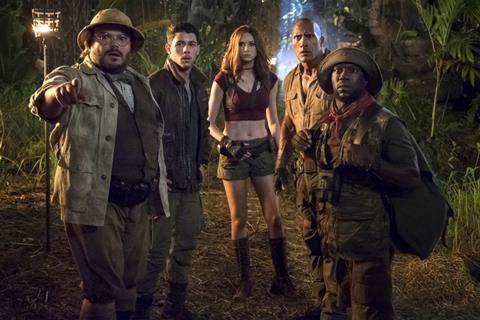 Jumanji: Welcome To The Jungle has now crossed $700m worldwide.
This weekend, the Sony Pictures Releasing International title will seek to retain its international box office crown; it currently sits on $408.5m.
Meanwhile Insidious: The Last Key has reached an impressive $48m and this weekend arrives in Brazil, Italy, Russia, Philippines, Argentina, Venezuela, and Switzerland.
There is plenty of good cheer at the start of the year over at Disney, where Stars Wars: The Last Jedi has amassed $678.9m through Walt Disney Studios Motion Pictures International and should cross $700m within the next week. Its global tally stands at $1.276bn. Pixar's Coco, meanwhile, stands at $430.8m and debuts in the UK, Turkey, and the Czech Republic.
Fox International has a busy session lading off with sci-fi adventure Maze Runner: The Death Cure, which gets an early run-out in Australia, New Zealand and South Korea one week ahead of the North American debut.
Dylan O'Brien, Kara Scodelario, Aiden Gillen from Game Of Thrones, and Walter Goggins star in the follow-up to Maze Runner: The Scorch Trials, which opened in 2015 in Australia and New Zealand on $2.5m and $460,000 en route to $9.8m and $1.7m, respectively. The Scorch Trials finished on $19.1m in South Korea.
Meanwhile the animation Ferdinand has stomped its way to $135.6m and debuts in China, while The Greatest Showman on $103.7m opens in Finland.
Fox opens arguably the two Oscar frontunners The Shape Of Water and Three Billboards Outside Ebbing, Missouri in a number of territories this weekend. Both are in the infancy of their international careers.
The former stands at $4.4m and arrives in 11 including Australia, Russia, New Zealand, South Africa, and Colombia. Three Billboards on $11.8m ventures into 13, among them France, Argentina, central America, Hong Kong, Switzerland, and Norway.
And awards contender The Post from Fox and Amblin Prtners kicks off its international run proper outside North America, where it expanded wide last weekend and stands at $31.3m. The Pentagon Papers drama debuts through a number of distributors and touches down through eOne in the UK, Spain and Belgium.
As allegations of sexual impropriety hover above director and Golden Globe-winning star James Franco, Warner Bros Pictures International executives are keeping The Disaster Artist in play as they continue to monitor the situation. The comedy stands at $5.6m and opens this weekend in Mexico.
Geostorm on $176.4m rolls into Japan on Friday. Father Figures stands at $3.2m, and Justice League has amassed $427.6m.
Pitch Perfect 3 has reached $69.3m through Universal Pictures International, while Darkest Hour has amassed $21.8m.
Daddy's Home 2 has grossed $76.3m for Paramount Pictures International and Downsizing stands at $8.6m. Tadeo Jones 2 stands at $26m.