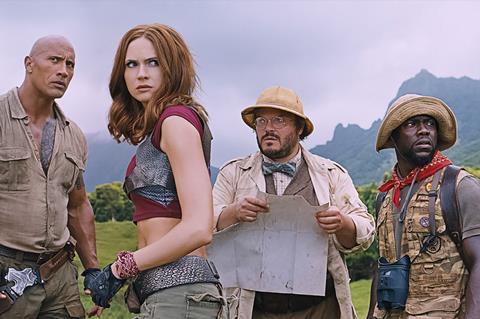 JANUARY 15 UPDATE: A second consecutive weekend at the top for Sony's Jumanji: Welcome To The Jungle saw it dominate the four-day Martin Luther King Jr. weekend as an estimated $35.4m propelled the tally to $291.6m after four weekends, ahead of debuts by The Commuter, Paddington 2, and Proud Mary.
DreamWorks/Participant's The Post from Steven Spielberg vaulted 13 slots to number two through Fox following a theatre expansion from 36 to 2,819 as it added $23.4m for $27.9m in the fourth session.
Studiocanal's Liam Neeson thriller The Commuter debuted solidly in third place on $16.4m in 2,892 sites. Warner Bros opened Paddington 2 at number six on a decent $15m in 3,702 venues – the $10.9m three-day portion down 21.4% on the $18.9m January 2015 launch of Paddington through Weinstein/Dimension.
Screen Gems opened the action thriller Proud Mary starring Taraji P. Henson at number eight on $12m in 2,125.
Working Title's Winston Churchill drama Darkest Hour dropped two places through Focus Features to number 10, adding $5.6m for $36.8m in the eighth weekend. Molly's Game with Jessica Chastain slipped five rungs down the latter to number 12 through STX, earning $4.8m for $21.6m after three. I, Tonya ranks 14th through NEON/30WEST on $4.2m for $10.9m after six.
Three Billboads Outside Ebbing, Missouri used a strong performance at last weekend's Golden Globes – winning four, more than any other film – to climb four places to number 16 in its tenth session, grossing $3.2m for $29.4m via Fox Searchlight. The distributor and awards specialist saw The Shape Of Water, which earned two Globes, drop four to number 15 on $3.6m for $27.3m after seven.
Box office for the top 12 over four days generated $170.3m, while the three-day session earned $132.4m, down 11.6% on last weekend, and down 2.9% on the comparable three-day MLK session in 2017.
This week's wide releases are: thriller Den Of Thieves starring Gerard Butler through STX; and Warner Bros' war film 12 Strong with Chris Hemsworth, Michael Shannon, and Michael Pena.
Estimated top 10 North America January 12-15, 2018
Film (Dist) / Est wkd gross / Est total to date
1 (1) Jumanji: Welcome To The Jungle (Sony) Sony Pictures Releasing International $35.4m $291.6m
2 (15) The Post (Fox-Amblin) Fox International $23.4m $27.9m
3 (-) The Commuter (Lionsgate) Lionsgate International $16.4m
4 (4) The Greatest Showman (Fox) Fox International $15.6m $98.4m
5 (3) Star Wars: The Last Jedi (Buena Vista) Walt Disney Studios Motion Pictures International $15.3m $595.6m
6 (-) Paddington 2 (Warner Bros) Studiocanal $15m –
7 (2) Insidious: The Last Key (Sony Pictures Releasing International $14.6m $50.8m
8 (-) Proud Mary (Sony) Sony Pictures Releasing International $12m –
9 (5) Pitch Perfect 3 (Universal) Universal Pictures International $7.3m $96.3m
10 (8) Darkest Hour (Focus Features) Universal Pictures International $5.6m $36.8m
Confirmed top 10 North America January 12-14, 2018
Film (Dist) / Conf wkd gross / Conf total to date
1 (1) Jumanji: Welcome To The Jungle (Sony) Sony Pictures Releasing International $28.1m $284.3m
2 (15) The Post (Fox-Amblin) Fox International $19.3m $23.8m
3 (-) The Commuter (Lionsgate) Lionsgate International $13.7m –

4 (4) The Greatest Showman (Fox) Fox International $12.5m $95.3m
5 (2) Insidious: The Last Key (Sony Pictures Releasing International $12.45m $48.7m
6 (3) Star Wars: The Last Jedi (Buena Vista) Walt Disney Studios Motion Pictures International $12.1m $592.3m
7 (-) Paddington 2 (Warner Bros) Studiocanal $10.9m –

8 (-) Proud Mary (Sony) Sony Pictures Releasing International $9.9m –

9 (5) Pitch Perfect 3 (Universal) Universal Pictures International $5.9m $94.9m
10 (8) Darkest Hour (Focus Features) Universal Pictures International $4.5m $34.7m