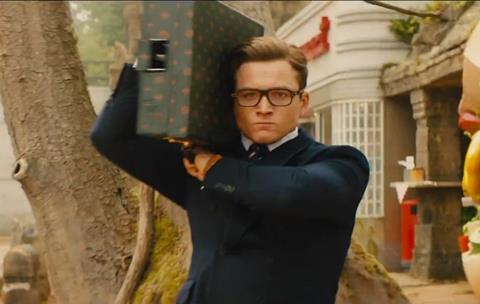 SEPTEMBER 25 UPDATE: Fox's tongue-in-cheek spy caper Kingsman: The Golden Circle usurped horror smash It with a solid $39m debut that combined with spectacular limited releases by Victoria And Abdul, Battle of The Sexes and Loving Vincent to maintain high spirits at the September North American box office.
Taron Egerton, Channing Tatum, Colin Firth, Julianne Moore, and Jeff Bridges star in Matthew Vaughn's sequel based once again on a screenplay collaboration with Jane Goodman. The opening weekend in 4,003 theatres improved on the $36.2m debut ($37.8m when adjusted for inflation) of Kingsman: The Secret Service in 2015 by 3%.
Warner Bros' The LEGO Ninjago Movie did not fare so well, arriving in third on $20.4m in 4,047 to gross roughly 40% of the last in the franchise, The LEGO Batman Movie, which opened top in February on $53m en route to $175.8m.
Stablemate It remains a superstar, adding $29.6m for $266.1m and slipping 50.5% in its third weekend to rank second. The film ranks as the highest R-rated horror release of all time across any sub-genre in North America.
Focus Features' Victoria And Abdul starring Judi Dench led the charge in the limited arena, arriving at number 26 via Focus Features on $158,845 from four for a $39,711 average. Fox Searchlight's hot awards prospect Battle Of The Sexes starring Emma Stone and Steve Carell as Billie Jean King and Bobby Riggs in the notorious 1973 tennis showdown opened at number 16 on $515,450 from 21 for a $24,545 average.
Loving Vincent, an acclaimed animation about the life of Vincent van Gogh that comprises tens of thousands of hand-painted frames, opened through Good Deed at number 47 on $23,180 in a single venue. Cinema Management Group handles international sales.
Darren Aronofsky's art horror mother! – a polarising release to put it mildly – slipped 56.3% and two slots to number five through Paramount on $3.3m for $13.5m.
Two other new releases broke into the top 10. Horror Friend Request arrived in seventh place on $2m from 2,573 via Entertainment Studios, Byron Allen's distributor that scored a hit this summer with shark thriller 47 Meters Down and recently added Keanu Reeves sci-fi Replicas and Toronto selection Chapaquiddick to the roster. At a reported budget of $9.9m excluding P&A spend, the poorly reviewed film will look to make back its money on ancillary platforms.
Roadside Attractions released the well-received Toronto premiere Stronger starring awards prospect Jake Gyllenhaal as a survivor of the Boston Marathon bombing. The drama is based on a true story and opened in eighth place on a lacklustre $1.6m from 574.
Overall top 12 accounted for $111.5m, up 6.7% on last weekend and up 14.1% on the comparable session in 2016 when Toronto 2016 opener The Magnificent Seven arrived on $34.7m.
This week's wide releases are: Screen Gems' Flatliners reboot starring Diego Luna, Ellen Page and Kiefer Sutherland; Tom Cruise crime thriller American Made through Universal; drama A Question Of Faith via Pure Flix; and thriller Til Death Do Us Part from Novus.
Confirmed top 10 North America September 22-24, 2017
Film (Dist) / Conf wkd gross / Conf total to date
1 (-) Kingsman: The Golden Circle (Fox) Fox International $39m –
2 (1) It (Warner Bros) Warner Bros Pictures International $29.6m $266.1m
3 (-) The LEGO Ninjago Movie (Warner Bros) Warner Bros Pictures International $20.4m –
4 (2) American Assassin (Lionsgate-CBS Films) Lionsgate International $6.3m $26.2m
5 (3) mother! (Paramount) Paramount Pictures International $3.3m $13.5m
6 (4) Home Again (Open Road) $3.2m $22.7m
7 (-) Friend Request (Entertainment Studios) $2m –
8 (-) Stronger (Roadside Attractions) Lionsgate International $1.612m –
9 (6) The Hitman's Bodyguard (Lionsgate-Summit) Lionsgate International $1.609m $73.4m
10 (6) Wind River (TWC) TWC International $1.3m $31.6m