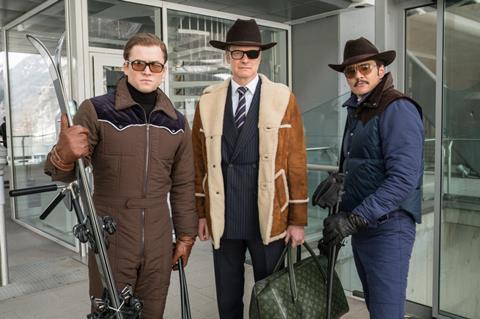 OCTOBER 23 UPDATE: Kingsman: The Golden Circle mustered $48.1m from 61 markets in its latest foray, buoyed by a $49.6m number one debut in China that propelled the action sequel to the cusp of $250m.
FOX INTERNATIONAL
UPDATED: Fired up by a Chinese debut that was some 73% ahead of the original's debut – and delivered $3.5m on IMAX – The Golden Circle climbed to $249.7m and delivered solid holdovers. It added $2.9m to stay top in France and reach $8.2m after two sessions, and grossed $1.2m in the UK for $30.6m after five.
Elsewhere Matthew Vaughn's hit added $703,924 in Germany for $10.1m after five. The international running total is tracking 34% ahead of its 2014 predecessor in the same bucket of markets at current exchange rates.
The Mountain Between Us added $2.7m from 20 markets for $14.1m, while Condorito took $1.8m from Latin America as it climbed to an early $5.3m. In the second weekend it held on to pole position in Chile following a $409,640 session for $1.1m, and Peru on $397,338 for $1.2m.
Captain Underpants: The First Epic Movie stands at $45.2m and War For The Planet Of The Apes has reached $343.4m. Dawn of The Planet of The Apes finished on $502.1m.
WARNER BROS PICTURES INTERNATIONAL
UPDATED: Geostorm starring Gerard Butler and directed by Dean Devlin partly made up for its lame North American debut with an estimated $38m international haul that came in above weekend reports and results in a $52.1m running total. South Korea led the openers on $5.3m, followed by Russia on $5.2m, Mexico on $3.8m, and the UK on $2.2m.
Horror smash It added $13.4m for $332.8m and delivered a superb $7.9m in Italy for the biggest horror and Warner Bros opening weekend of the year-to-date. The UK remains the lead market on $42.2m. The LEGO Ninjago Movie grossed $4.9m for $51.8m. The film has amassed $7.3m in the UK and $5.2m in Germany.
CHINA UPDATE

UPDATED: Yang Song and Chiyu Zhang's comedy Never Say Die brought in as further $15m as the international running total climbed to $308m. Jackie Chan action drama The Foreigner stands at $94.9m from the international arena.
SONY PICTURES RELEASING INTERNATIONAL
UPDATED: At a $150m price tag, Blade Runner 2049 still has a way to go before it breaks even and all eyes will be on the China launch this week. The sci-fi grossed $13.7m from 64 markets at the weekend to reach $119.9m. That combines with $74m from North America for $194m worldwide.
The UK is the top market this far on $2.4m for $20.7m, followed by Germany on $1.6m for $9m, and France on $1.3m for $8.6m.
The Emoji Movie added $2.4m for $121.8m and opened in France on $875,000 including previews. Flatliners stands at $12m, while Japanese live-action comedy Psychic Kusuo based on the manga series debuted in second place on $1.8m.
UNIVERSAL PICTURES INTERNATIONAL
UPDATED: Working Title's The Snowman managed $6.6m from 38 territories, among them 10 new arrivals, to stand at $19.4m. Germany delivered the best debut on $1.4m, followed by Australia on $663,000. The UK generated $774,000 for $3.6m.
Happy Death Day from Blumhouse opened in 15 territories, grossing $6.5m for an early $13m that combines with $40.7m from the first two weekends in North America for $53.7m worldwide. The horror release opened in fourth place in the UK on $1.4m.
American Made added $3m from 41 territories for $76.7m, and $122.2m worldwide. Cross Creek's Tom Cruise vehicle opened in Japan, which was hit by a typhoon on the weekend of a snap election, in second place on $1.5m
Victoria And Abdul was on course to add $1.5m from 35 territories for $31.5m. Atomic Blonde opened in Japan yesterday through Kadakowa Herald on an estimated $811,000. Overall the action thriller stands at an estimated $45.1m from Universal and the Sierra Affinity territories and an estimated $96.7m worldwide.
Illumination's Despicable Me 3 overtook Finding Dory to rank as the fourth highest grossing animated film worldwide on $1.0287bn. International accounts for $766.1m. Brazilian animation and live-action title Woody Woodpecker stands at $5.3m in Brazil.
The top five animated films worldwide are Frozen on $1.276bn, Minions on $1.159bn, Toy Story 3 on $1.067bn, followed by Despicable Me 3, and Finding Dory on $1.0286bn.
WALT DISNEY STUDIOS MOTION PICTURES INTERNATIONAL
Cars 3 added $1m to reach $225.4m and stands at $378.2m worldwide. China remains the lead market on $20.7m, followed by France on $19.5m and Japan on $16.1m.
Thor: Ragnarok ventures out into 35 markets including the UK, Australia, France and Italy this week one week ahead of North America.
LIONSGATE INTERNATIONAL
My Little Pony: The Movie took $4.7m from 71 markets as the running total trotted to $17.2m. The family release debuted in the UK on $1.2m and stands at $1.9m in the CIS after two weekends, and $1.6m in Germany and $1.3m in Poland, both after three.
PARAMOUNT PICTURES INTERNATIONAL
Darren Aronofsky's art horror mother! used a $1.1m session from 46 markets including $216,000 from the South Korean debut to reach $24.8m. Animation Tadeo Jones 2 stands at $19.8m.