Meanwhile, Paramount's XXX: The Return Of Xander Cage also targets $100m international running total.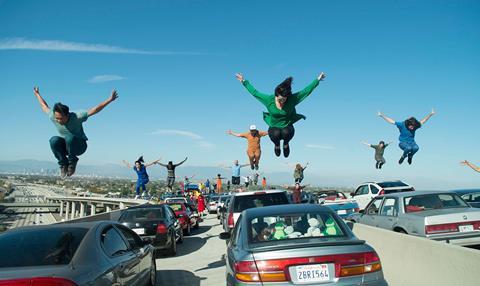 LIONSGATE INTERNATIONAL
La La Land, which earlier this week earned 14 Oscar nominations to tie with Titanic and All About Eve on the highest number ever, stands at $92m.
The musical starring Emma Stone and Ryan Gosling is expected to cross $100m internationally and $200m worldwide this weekend. The North American tally has reached $93.2m and worldwide is $185.2m.
PARAMOUNT PICTURES INTERNATIONAL
Studio executives will expect to build on last weekend's $71m worldwide debut as XXX: The Return Of Xander Cage ventures into its second international weekend.
XXX has reached an international running total of $64.3m and is expected to hold well. While there are no new markets this weekend, the Vin Diesel starrer is set to arrive in South Korea on February 9, China on February 10 and Japan on February 24.
Monster Trucks stands at $20m, with Allied at $70.1m.
WARNER BROS PICTURES INTERNATIONAL
Ben Affleck's crime noir Live By Night has taken $6.9m from its 39 territories and opens in Australia and Spain.
Collateral Beauty starring Will Smith sits at $46.2m heading into its opening in Brazil this weekend.
Harry Potter spin-off Fantastic Beasts And Where To Find Them has risen to $575.7m, while The Accountant has reached $66.1m and Sully $114.4m.
WALT DISNEY STUDIOS MOTION PICTURES INTERNATIONAL
Moana hit the $500m global mark over the weekend and sits at $280.2m internationally, bringing the worldwide total to $517m. The animated film opens in Hong Kong and Taiwan.
Doctor Strange opens in Japan this weekend and is perched on $428.4m.
Rogue One: A Star Wars Story hit the $1bn mark at the worldwide box office last weekend and currently sits at $504m internationally and $1.06bn worldwide with all territories opened.
FOX INTERNATIONAL
Hidden Figures has grossed $844,000 with the bulk coming from its $668,000 debut in Spain last week. It opens in eight territories this weekend, including Denmark and New Zealand.
The Michael Fassbender video game adaptation Assassin's Creed stands at $149m, with no new openings this week.
Why Him? heads into the weekend on $46.8m and opens in France and Italy.
UNIVERSAL PICTURES INTERNATIONAL
Opening in the UK and France this week, Sing stands at $189m and $438.4m worldwide.
Oscar nominee Manchester By The Sea opens in Belgium and New Zealand and sits at $40.2m worldwide.
James McAvoy showcase Split on $8.7m opens in Australia, Germany, Italy and Spain, among others.
A Dog's Purpose will open this weekend in Brazil and other Latin American markets.
Nocturnal Animals stands at $18.3m and The Great Wall arrives in the Philippines.
SONY PICTURES RELEASING INTERNATIONAL
Passengers has amassed $178.1m including Village Roadshow markets, while Resident Evil: The Final Chapter has grossed $35.2m from the early stages, and Arrival stands at $48.5m from Sony markets.