Lucy stayed on top of the international chart thanks to an estimated $23.3m weekend haul that boosted the tally to $143.7m through Universal and $192.2m including EuropaCorp markets.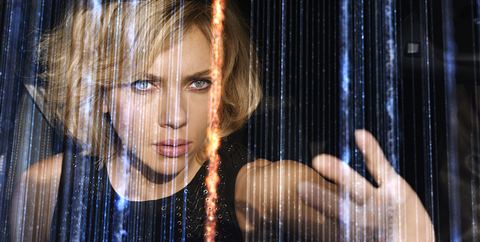 UNIVERSAL PICTURES INTERNATIONAL
The Scarlet Johansson thriller arrived in second place in South Korea on $7m in a record debut for director Luc Besson. It added $2m in the third weekend in the UK to climb to $17.4m.
In the second weekend, Mexico added $2.8m for $8.2m, Brazil $1.9m for $5.2m and Japan $1.5m for $5.8m.
The Expendables 3, which Universal is releasing in Italy, Russia and Spain, grossed $2.1m for $13.3m. The film opened in Italy on $1.9m and has grossed $7.4m in Russia after four sessions and $4m in Spain.
Legendary Pictures' horror As Above/So Below opened in 13 territories, grossing $1.6m from a total of 19 to reach $4.7m.
Boyhood has grossed $10m from 15 territories and opened in Australia on $456,000 including previews. The Purge: Anarchy has taken $34.4m from 17.
PARAMOUNT PICTURES INTERNATIONAL
Hercules brought in $17.1m for $122.9m, opening top in Brazil on $4.4m for Paramount's fourth biggest debut and in Germany on $3m. The Spanish debut delivered $1.4m and Colombia produced a $1.1m number one debut.
Teenage Mutant Ninja Turtles added $8.7m from 48 territories to reach $125.6m. Transformers: Age Of Extinction grossed $1.9m for $833m.
FOX INTERNATIONAL
Dawn Of The Planet Of The Apes grossed $16.6m to stand at $437.7m and arrived top in Venezuela on $1.1m. A further $13.5m from China resulted in a $72m running total.
The Fault In Our Stars added $5m for $170m and opened top in Italy on $2.6m and arrived in Russia at number three on $901,000.
Let's Be Cops took a further $4.1m for an early $17.6m and opened top in Sweden on $394,000. DreamWorks Animation's How To Train Your Dragon 2 added $3m for $432m.
Fox International Productions' El Nino stayed top in Spain where $2.8m boosted the tally to $9.2m after two weekends.
Doktorspiele added $1.6m for $4.6m in Germany, while Guten Tag, Ramon earned $747,000 in Mexico for $3.3m.
WARNER BROS PICTURES INTERNATIONAL
Into The Storm grossed $11.6m from 54 markets for an early $65.7m. The action film opened top in Mexico on $3.7m and scored a $1.8m debut in Australia for number two.
If I Stay added $4.6m from 19 markets for $10.8m. The drama arrived in Brazil on $942,000 and stands at $1.9m in the UK after two weekends.
Relatos Salvajes (Wild Tales) pulled in a further $2.2m from Argentina, Chile, Uruguay and Peru to reach $9.5m. The film is a Warner Bros. presentation of a K&S Films & El Deseo production.
WALT DISNEY STUDIOS MOTION PICTURES INTERNATIONAL
Guardians Of The Galaxy grossed $11.5m for $291.6m and has exceeded the final totals of The Wolverine on $282m, Thor on $268m, Iron Man on $267m and Captain America: The First Avenger on $194m.
The Marvel Studios release has reached $43.2m in the UK, $36.4m in Russia, $21.4m in Australia, $19.3m in Mexico and $18.7m in France.
SONY PICTURES RELEASING INTERNATIONAL
Deliver Us From Evil grossed an $6.9m from 43 territories to stand at $34.3m. The horror film opened at number five in Germany on $1.3m and scored the same rank in France on $1.1m. It opened in Spain on $1m for number three and has reached $6.6m in Russia after two sessions.
Sex Tape grossed an estimated $4m for $47.8m punctuated by a number one $2.4m UK debut. It opened in Taiwan on $335,000.
22 Jump Street has reached $128.8m and opened in Brazil on $900,000.
LIONSGATE INTERNATIONAL
Step Up All In generated $3.6m for the weekend to climb to $62.9m and took $1.6m in South Korea from 324 screens and finished the week as the top film in Singapore on $465,000.
STUDIOCANAL
Before I Go To Sleep opened in the UK on $1m.