Mad Max: Fury Road opened in 68 markets on an estimated $65m powered by a string of number one debuts.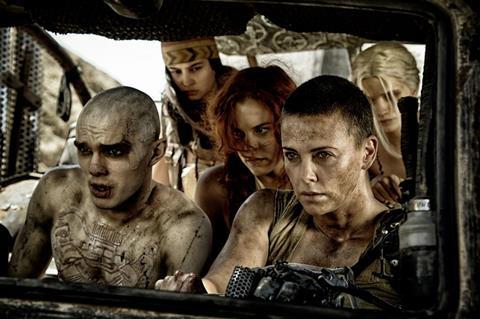 WARNER BROS PICTURES INTERNATIONAL
Results exclude all of Wednesday and part of Thursday due to the delayed launch in Europe coinciding with the out-of-competition screening
The action film starring Tom Hardy, Charlize Theron and Nicholas Hoult opened at number one in France on $6.8m, the UK on $6.7m, top in South Korea on $6.6m, top in Russia on $6m and top in Australia on $4.8m.
It also ranked number one in Brazil on $3.9m, Mexico on $3m, Germany $2.8m and top in Spain, Italy and Scandinavia on $1.3m, $1.2m and $2m, respectively.
UNIVERSAL PICTURES INTERNATIONAL
Pitch Perfect 2 grossed $26.9m from 29 territories as the early tally climbed to $38.1m and the global haul reached $108.4m including the $70.3m number one North American debut.
The film arrived in the UK on $8m, Germany $4.2m, the Philippines $1.9m and Taiwan $1.2m. Australia added $4.9m for $14.5m after two weekends.
Fast & Furious 7 has reached $1.145bn internationally including $390.5m from China. Combined with the U.S. total of $343.8M, the worldwide total is $1.489 Billion.
FOX INTERNATIONAL
DreamWorks Animation's Home stands at $185.6m and arrived in Venezuela on $1.5m.
SONY PICTURES RELEASING INTERNATIONAL
Paul Blart: Mall Cop 2 stands at $31.5m.