SEPTEMBER 22 UPDATE: The Maze Runner vaulted to the top of the international charts as Fox International declared an confirmed $38m haul from 51 markets, scoring number one in 47.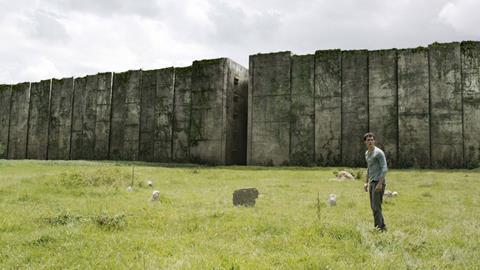 FOX INTERNATIONAL
The YA thriller opened last weekend and stands at a highly promising $50.7m internationally and $83.2m worldwide factoring in the number one North American debut.
According to studio executives The Maze Runner surpassed the debuts of The Hunger Games and Divergent in South Korea on $5.5m from 648, Russia on $5.8m from 1,748, Hong Kong on $1.6m from 89, Thailand on $1.4m from 270, the Philippines on $1.4m from 173 and UAE on a little below $1m from 37, among others.
In other notable results the film delivered $3.4m from 310 in Australia and $2m from 344 in Brazil, exceeding the comparable holidays launches of Divergent.
There were number one holds in Mexico on $1.9m from 843 for $5.9m, Taiwan on $1.5m from 125 for $4.8m, Malaysia on $1.2m from 226 for $4.3m, Singapore on $765,000 from 57 for $2.5m and Central America on $325,000 from 91 for $745,000.
There are 27 markets to go including nine of the top 15. Fox International has scheduled 14 debuts this week. The Maze Runner is active on 119 Imax screens and stands at $1.8m, which the large screen specialist cited as a record September launch for a 2D title.
Dawn Of The Planet Of The Apes crossed $100m in China as $3.6m boosted a standout performance to $102.9m and counting. The action sequel arrived in the final market of Japan and produced pole position for all Hollywood films in the market on $3.7m from 712. Overall Dawn grossed $8.3m from 16 markets to reach $478.2m and $685.5m worldwide.
Let's Be Cops added $1.7m from 25 for an early $25.2m and more than $101m worldwide, while The Fault In Our Stars used a further $1.6m from 16 to land on $177m and $301.2m worldwide.
DreamWorks Animation's How To Train Your Dragon 2 has reached $436.9m internationally and has generated a global haul of $601m.
The rich vein of form at Fox International Productions shows little sign of abating. Spanish co-production El Nino grossed $1.6m from 375 in Spain to reach $15.9m overall, while Finding Fanny earned $574,000 from 556 in India for $6.2m and $7.1m overall. Doktorspiele and Guten Tag, Ramon stand at $6.3m in Germany and $4.5m in Mexico, respectively.
UNIVERSAL PICTURES INTERNATIONAL
UPDATE: EuropaCorp's erstwhile international champion Lucy brought in $12.8m including $11.4m through Universal Pictures International and has amassed $253m overall and $199.7m through Universal.
The Scarlett Johansson thriller opened in second place in Argentina on $465,000 from 110 sites for Luc Besson's best score to date and added $3.9m in Russia for $16.5m after two weekends. The UK has generated $21.4m after five.
Laika's The Boxtrolls, which Universal is distributing internationally, grossed $4.2m in 11 territories for an early $11.1m.
The animation opened at number four in Australia on $607,000 from 250 and scored a number one UK result on $2m from 503 venues for $5.8m after two sessions. Mexico has produced $3.4m after two.
Legendary's horror film As Above, So Below grossed $2.8m from 40 for $12.5m and there are nine territories to go.
The Purge: Anarchy has reached $36.2m, while Lone Scherfig's recent Toronto world premiere The Riot Club opened in the UK on $805,000 from 378 at number five and Boyhood has climbed to $12.8m.
SONY PICTURES RELEASING INTERNATIONAL
UPDATE: Sex Tape grossed $7.5m from 52 markets to stand at $71.2m, fired up by a $455,000 Venezuelan debut on 45 screens. Colombia delivered $189,000 on 65. Germany stayed top on $2.7m for $7.5m and the UK has produced $5.8m and France $2.8m.
Deliver Us From Evil earned $3.9m for $47.9m and arrived at number three in Brazil on $1.1m from 310. Mexico delivered $725,000 for $2.7m after two sessions. Spain stands at $3m after three, Germany $2.5m and Russia $8.4m.
22 Jump Street climbed to $133.5m following a $1.1m weekend. France has generated $4.2m after four, Brazil $2m and Mexico $1.8m.
PARAMOUNT PICTURES INTERNATIONAL
UPDATE: Teenage Mutant Ninja Turtles delivered $7.1m from 49 territories for $148.2m and scored a number one debut in Italy on $2.2m from 387 sites. Australia has produced $8.9m after two.
Hercules grossed $5.1m from 31 for $146.9m. After three sessions, Brazil stands at $11.6m and Germany $6.7m.
INDEPENDENT HIGHLIGHTS
SudioCanal's Liam Neeson thriller Non-Stop added $7m for $95m. Neeson is also in action in the number two North American film A Walk Among The Tombstones and the mystery-thriller amassed approximately $5m through licensees. Bloom oversees international distribution. The Expendables 3 added a further $4.3m through Nu Image licensees and stands at $156m.
WARNER BROS PICTURES INTERNATIONAL
UPDATE: Into The Storm has crossed $100m following a $5.7m haul in 39 markets. The $100.5m running total has been helped along by $15.4m in South Korea, $14.8m in China and $8.6m in Mexico.
Relatos Salvajes has become the studio's number one and the industry's number all-time three release in Argentina. The film ranks number one for a fifth straight weekend in Argentina as $961,000 from 230 screens resulted in $12.3m.
Rurouni Kenshin: The Legend Ends added $3.9m from 434 in the second weekend in Japan to stand at $21.1m. The running total in Japan for Rurouni Kenshin: Kyoto Inferno is $48.4m.
If I Stay delivered $3.3m in 45 territories for $21.2m. France generated $393,000 from 151 screens, Germany $258,000 from 228, Spain $207,000 from 81, Holland $202,000 from 41 and Italy $175,000 from 66. Dolphin Tale 2 stands at an early $3.2m.
After debuting in at number one in Turkey last weekend, Dabbe : Zehr-I Cin maintained the top spot and climbed by $452,000 from 285 screens to $1.5m. J Plan and Taff Pictures produced the film.
WALT DISNEY STUDIOS MOTION PICTURES INTERNATIONAL
Marvel Studios' Guardians Of The Galaxy has now crossed the international lifetime total of Iron Man 2 on $312m in light of a $5.2m weekend from 38 territories that boosted the running total to $318.6m.