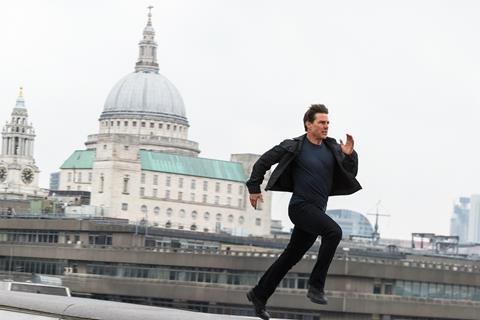 Tom Cruise and the Mission: Impossible – Fallout team are favourites to finish the weekend as the top Hollywood international release and should soar past $150m after last weekend's rousing debut.
The sixth instalment in the action franchise has reached $128.5m after a little over one week in release and might even end the session as the highest international release if it can stave off what looks likely to be a strong second weekend from China's Hello Mr. Billionaire.
Paramount Pictures International executives expect Mission: Impossible – Fallout to deliver a raft of strong holds – the UK, Spain and Russia could prove particularly rewarding if theatre-goers need an air-conditioned escape from the sweltering heat – alongside what are expected to be robust debuts in Australia, Germany, France, and Japan.
Incredibles 2 crossed $1bn worldwide earlier this week and should soar past $450m internationally, with debuts in Japan, Spain, Czech Republic and Slovakia through Walt Disney Studios Motion Pictures International. The Pixar smash currently stands at $440.9m.
Marvel Studios' Ant-Man and the Wasp stands at $217.9m and flies into the UK this weekend, when studio brass will look for a launch to emulate the $6.3m debut of Ant-Man back in July 2015 as that film set off on its journey to $25.2m.
Disney's Christopher Robin launches day-and-date with North America in Mexico, Russia, Taiwan, Hong Kong, Singapore, Venezuela, Colombia, Israel, Turkey and South Africa, among others. Marc Forster directs Ewan McGregor as Christopher Robin, a working class man who rediscovers his love of life when he meets his old friend Winnie The Pooh.
The family title also launches in Bolivia, Chile, Hungary, Paraguay, Philippines, Turkey, Ukraine, Uruguay, and Vietnam.
Hotel Transylvania 3: Summer Vacation has grossed $181.5m through Sony Pictures Releasing International and should cross $200m this weekend. The animation opens in South Korea on August 8, and Italy on August 22.
Denzel Washington action thriller The Equalizer 2 has reached an early $6.8m as it prepares to venture into a raft of key markets throughout this month and September. Upcoming debuts include Spain on August 10, France on August 15, Brazil on August 16, Germany on August 16, and the UK and Mexico on August 17.
Fox International's The Darkest Minds, an adaptation of the dystopian YA book directed by Kung Fu Panda 2 and 3 director Jennifer Yuh Nelson, sets off day-and-date with North America in 41 territories, among them Mexico, Philippines, Argentina, Singapore and Turkey.
The studio has enjoyed success with YA properties, most recently with Maze Runner: The Death Cure which grossed $230.2m following its January release. Mexico, Turkey, Singapore and Argentina delivered highly respectable $7.9m, $3.1m, $2.2m and $1.9m final grosses for that film.
Skyscraper has climbed to $117.4m through Universal Pictures International excluding China, where it had reached $85.3m through Legendary East by Sunday. That puts the Dwayne Johnson action thriller past the $200m international mark including China, where latest figures were unavailable at time of writing.
Mamma Mia! Here We Go Again stands at $116.6m and arrives in seven territories, led by Brazil, India and Taiwan. Horror-thriller The First Purge on $48.3m debuts in Russia, while Jurassic World: Fallen Kingdom has reached $846.7m internationally. The comedy Blockers opens in France.
Warner Bros Pictures International's Melissa McCarthy comedy Life Of The Party stands at $12.7m, while crime caper Ocean's 8 has reached $133.9m, comedy Tag $19.9m, and family release Teen Titans Go! on an early $1.4m as it heads into the UK.