OCTOBER 24 UPDATE: The first film to be produced and fully financed by A24 delivered a timely opening weekend heading into awards season as Lionsgate's Boo! A Madea Halloween ruled the session on a confirmed $28.5m.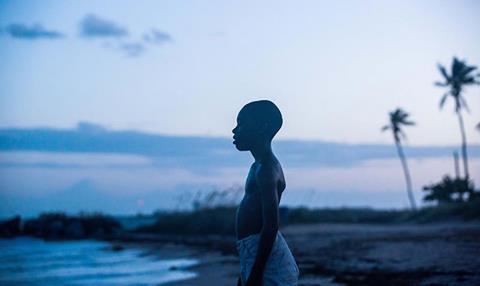 Moonlight arrived at number 19 on an estimated $402,075 for a mighty $100,519 average from four theatres that ranks number 26 in the all-time pantheon of opening weekend averages including wide releases.
Barry Jenkins' story of an African-American youngster growing up in the ghetto in 1980s Miami earned a Gotham nomination for best feature last week and will also receive a special jury award for ensemble cast at the awards ceremony on November 28.
Meanwhile Tyler Perry latest film arrived top on $28.5m in 2,260 theatres and is well placed heading into next session's Halloween weekend, even though Sony's thriller Inferno starring Tom Hanks will be favourite to dominate when it opens on Friday.
Tom Cruise in Jack Reacher: Never Go Back had to settle for a number two debut on $22.9m from 3,780 venues. The critics preferred its 2012 predecessor, however the action thriller performed better on its debut compared to $15.2m.
Warner Bros opened Ouija: Origin Of Evil in third place on $14.1m from 3,168 theatres and it trailed the $19.9m debut of the 2014 original by roughly 30% when adjusted for inflation.
Fox opened Keeping Up With The Joneses failed to deliver, opening at number seven on $5.5m from 3,022 venues. The comedy stars Jon Hamm, Isla Fisher, Gal Gadot and Zach Galifianakis.
Last weekend's champion The Accountant dropped three places and 44.8% to rank fourth and stands at $47.5m via Warner Bros after two sessions, while Universal's The Girl On The Train dropped to number five and has grossed $58.8m after three weekends.
Pure Flix launched family drama I'm Not Shamed at number 15 on $927,161 from 505 sites, while Lionsgate launched Ewan McGregor's directorial debut American Pastoral at number 30 on $149,038 from 50 sites.
Magnolia Pictures launched Park Chan-wook's South Korean thriller The Handmaiden at number 35 on $92,129 from five, while Michael Moore self-released his latest documentary Michael Moore In Trumpland at number 45 on $50,200 from two sites.
The top 12 combined for $113.6m and climbed 27.8% on last weekend and gained 16.4% on the comparable period last year.
This week's wide release is Inferno, which stars Hanks and Felicity Jones. Ron Howard directed the third entry in the Dan Brown adventure series that kicked off in with The Da Vinci Code.

Confirmed top 10 North America October 21-23, 2016
Film (Dist) / Conf wkd gross / Conf total to date
1 (-) Boo! A Madea Halloween (Lionsgate) Lionsgate International $28.5m –
2 (-) Jack Reacher: Never Go Back (Paramount) Paramount Pictures International $22.9m –
3 (-) Ouija: Origin Of Evil (Warner Bros) Warner Bros Pictures International $14.1m –
4 (1) The Accountant (Warner Bros) Warner Bros Pictures International $13.6m $47.5m
5 (2) The Girl On The Train (Universal) Mr Smith Entertainment $7.2m $58.8m
6 (4) Miss Peregrine's Home For Peculiar Children (Fox) Fox International $5.9m $74.3m
7 (-) Keeping Up With The Joneses (Fox) Fox International $5.5m –
8 (3) Kevin Hart: What Now? (Universal) Universal Pictures International $4.1m $18.9m
9 (6) Storks (Warner Bros) Warner Bros Pictures Animation $4m $64.6m
10 (5) Deepwater Horizon (Lionsgate) Lionsgate International $3.4m $55m