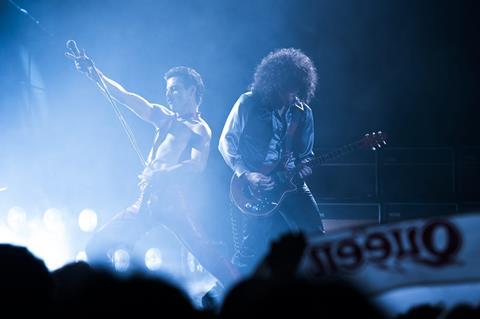 NOVEMBER 5 UPDATE: Fox's Queen biopic Bohemian Rhapsody was the runaway winner at North American box office over the weekend as the confirmed $51.1m debut exceeded expectations and blew new openers from Disney and Paramount.
Rami Malek as Queen front man Freddie Mercury opened on 4,000 screens and dominated the session. The film reportedly cost $50m to produce and is well on the way to profitability given its $145.1m global running total.
Buena Vista's fantasy adventure The Nutracker And The Four Realms starring Keira Knightley and Helen Mirren arrived in second place on $20.4m in 3,766 sites, while Paramount comedy Nobody's Fool starring Tiffany Haddish debuted in third on $13.7m in 2,468.
In its third weekend Universal, Blumhouse and Miramax's Halloween crossed $150m. Sony's Venom ranks sixth and will cross $200m this week. It currently stands at $198.7m after five weekends.
The Gerard Butler submarine thriller Hunter Killer tumbled 47% and four slots to number nine in its second weekend, adding $3.5m for $12.9m through Lionsgate-Summit.
In its third weekend, Jonah Hill's directorial debut Mid90s fell 55.4% and four places to 14 on $1.3m for $5.8m through A24, as Luca Guadagnino's horror reboot Suspiria climbed four to number 19 and adding $979,882 for $1.2m through Amazon Studios.
Focus Features launched the gay conversion therapy programme drama Boy Erased starring Lucas Hedges, Russell Crowe and Nicole Kidman at number 24 on $207,057 from five venues for an excellent $41,411 average.
Aviron's Marie Colvin war reporter biopic A Private War starring Rosamund Pike opened at number 37 on $60,491 from four venues for an encouraging $15,123 average.
Weekend box office for the top 12 combined for $133.6m, up 41.5% on last weekend, and down 20.2% on the comparable session in 2017.
This week's wide releases are: Universal's family film Dr. Seuss' The Grinch voiced by Benedict Cumberbatch; Paramount's wartime horror film Overlord; and Columbia Pictures' The Girl In The Spider's Web starring Claire Foy.
Confirmed top 10 North America Nov 2-4, 2018
Film (Dist) / Conf wkd gross / Conf total to date
1 (-) Bohemian Rhapsody (Fox) Fox International $51.1m –
2 (-) The Nutcracker And The Four Realms (Buena Vista) Walt Disney Studios Motion Pictures International $20.4m –
3 (-) Nobody's Fool (Paramount) Paramount Pictures International $13.7m –
4 (2) A Star Is Born (Warner Bros) Warner Bros Pictures International $11m $165.5m
5 (1) Halloween (Universal) Universal Pictures International $10.8m $150.2m
6 (3) Venom (Columbia Pictures-Marvel) Sony Pictures Releasing International $7.9m $198.7m
7 (8) Smallfoot (Warner Bros) Warner Bros Pictures International $3.9m $77.5m
8 (4) Goosebumps 2: Haunted Halloween (Columbia Pictures) Releasing International $3.8m $43.9m
9 (5) Hunter Killer (Lionsgate-Summit) Lionsgate International $3.5m $12.9m
10 (6) The Hate U Give (Fox) Fox International $3.4m $23.4m