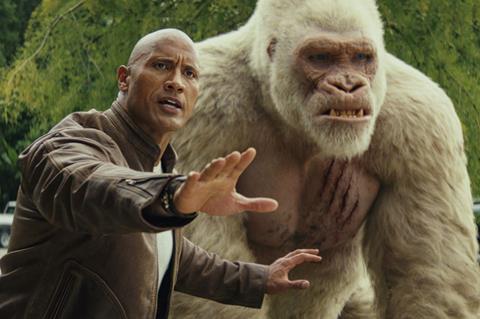 The Dwayne Johnson action adventure Rampage stands a good chance of crossing $200m through Warner Bros Pictures International this weekend and remains the one to beat.
The tentpole about a scientist who tries to stop mutant beasts run amok in Chicago has stormed to an early $152.6m after one week and $196.9m globally.
Warner Bros is on a roll. Steven Spielberg's sci-fi smash Ready Player One stands at $370.8m and ventures into Japan this weekend. Meanwhile Game Night has grossed $40.7m, and Clint Eastwood's thriller 15:17 To Paris $20.1m.
Fox International opens the comedy Super Troopers 2 day-and-date with North America in Australia and New Zealand, and Holland. Wes Anderson's Isle Of Dogs arrives in China, Hong Kong and Spain and stands at $9.5m.
Marvel Studios' global sensation Black Panther stands at $641.1m, while Pixar's Coco has reached $641.1m
The R-rated comedy Blockers has reached $16.9m through Universal Pictures International and debuts in Taiwan and Singapore. Pacific Rim: Uprising stands at $125.2m, and supernatural thriller Truth Or Dare $3.6m from the early stages of its run heading into around 18 smaller markets this weekend. Lady Bird has grossed $24.4m.
Paramount Pictures International executives report that SXSW opener and horror hit A Quiet Place stands at $59.1m, and the family animation Sherlock Gnomes has amassed $16.4m.