AUGUST 3 UPDATE: Tom Cruise returned to pole position at the North American box office and bucked the trend of diminishing debuts for the last two episodes in the spy franchise, playing his part in helping 2015 box office stay 8.1% ahead of last year by the same stage.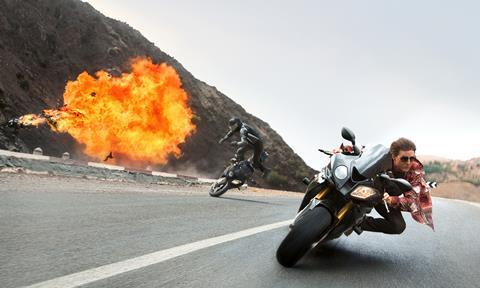 Paramount/Skydance's Mission: Impossible – Rogue Nation grossed an estimated $55.5m in 3,956 sites via Paramount to deliver the third best opening weekend in the series with all debuts adjusted for inflation.
In terms of unadjusted grosses, this was Cruise's third best North American debut after War Of The Worlds on $64.9m and Mission: Impossible II on $57.8m.
Rogue Nation generated $8.4m from 369 North American Imax sites and scored the third best July debut behind The Dark Knight Rises on $19m and the Harry Potter finale on $15.2m. Rebecca Ferguson, Jeremy Renner, Simon Pegg, Alec Baldwin and Sean Harris star.
New Line comedy Vacation starring Christina Applegate, Ed Helms, Leslie Mann and Chris Hemsworth arrived in second place on a limp $14.7m from 3,411 sites via Warner Bros, rising to $21m since the Wednesday opening day.
Elsewhere all the other films shunted down one or two spots.
A24 opened Sundance entry The End Of The Tour starring Jason Segel and Jesse Eisenberg in $123,238 from four venues for an excellent $30,810 average.
Box office for the top 12 dropped less than 2% against last weekend and by 21% against the comparable session in 2014.
This week's wide releases are: Fox's Fantastic Four reboot directed by Josh Trank starring Miles Teller, Michael B Jordan, Jamie Bell, Kate Mara and Toby Kebbell; TriStar Pictures' comedy-drama Ricki And The Flash directed by Jonathan Demme and starring Meryl Streep; STX Entertainment's maiden release, psychological thriller The Gift directed by and starring Joel Edgerton; and Aardman Animation and StudioCanal's Shaun The Sheep via Lionsgate.
Confirmed top 10 North America July 31-Aug 2, 2015
Conf (Dist) / Conf wkd gross / Conf total to date
1 (-) Mission: Impossible – Rogue Nation (Paramount) Paramount Pictures International $55.5m –
2 (-) Vacation (Warner Bros-New Line) Warner Bros Pictures International $14.7m $21m
3 (1) Ant-Man (Disney-Marvel Studios) Walt Disney Studios Motion Pictures International $12.8m $132.3m
4 (3) Minions (Universal-Illumination) Universal Pictures International $12.4m $287.6m
5 (2) Pixels (Sony Pictures) Sony Pictures Releasing International $10.5m $45.7m
6 (4) Trainwreck (Universal) Universal Pictures International $9.6m $79.6m
7 (5) Southpaw (The Weinstein Company) The Weinstein Company $7.6m $31.7m
8 (6) Paper Towns (Fox) Fox International $4.6m $23.9m
9 (7) Inside Out (Buena Vista-Pixar) Walt Disney Studios Motion Pictures International $4.5m $329.6m
10 (8) Jurassic World (Universal) Universal Pictures International $3.9m $631.6m