The disaster tentpole has reached $100m heading into a second weekend expected to deliver solid holds for Warner Bros Pictures International and the promise of mighty debuts in China and South Korea.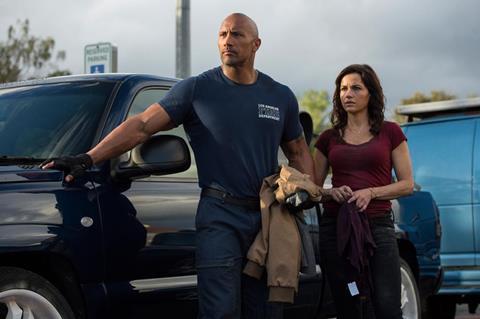 The film ruled the world last weekend and may stay top internationally, where stablemate Entourage opens in Australia and is expected to take the North American crown.
The Warner Bros pair will face stiff competition from Fox International's Melissa McCarthy spoof Spy as it rolls out day-and-date with North America in 54 territories, among them the UK, Germany, Russia, Mexico, Brazil and Argentina.
Fox opened Unfinished Business in Spain and releases Aloha in Australia and New Zealand. The Longest Ride debuts in Italy while French audiences get to seeFar From The Madding Crowd.
Insidious: Chapter 3 opens via Sony Pictures Releasing International in approximately 38 markets mostly minor territories where Russia, Argentina and Italy are expected to pack the mightiest punches. Focus release this weekend in North America.
Marvel Studios' Avengers: Age Of Ultron became only the fifth film to cross $900m this week and stands at $902.3m through Walt Disney Studios Motion Pictures International.
Tomorrowland has reached $78.8m and opens this weekend in Japan and Brazil, while Cinderella has amassed $334.9m and Tinker Bell And The Legend Of The NeverBeast $37.8m.
Universal Pictures International's Pitch Perfect 2 has grossed more than $80.7m, while Ex Machina on more than $10.6m opens in France.
Mad Max: Fury Road has grossed $172.4m via Warner Bros Pictures International.