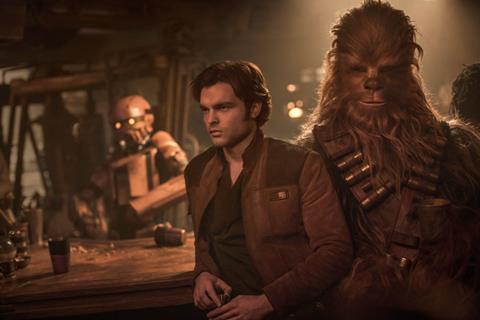 JUNE 4 UPDATE: Lucasfilm's Solo: A Star Wars Story fell 65.2% in its second weekend as it held on to top spot on $29.4m for $148.9m via Buena Vista.
The tentpole has reached $264.2m worldwide after two sessions – considerably below studio expectations – and ceded its international crown to Deadpool 2, Fox's R-rated superhero release that ranks second in North America on $254.5m after three weekends.
There were three debutants, led by STXfilms' survival drama Adrift starring Shailene Woodley and Sam Clafin and directed by Baltasar Kormákur. It opened at number three on $11.6m in 3,015 theatres. BH Tilt's thriller Upgrade arrived in sixth place on $4.7m from 1,457 sites.
Paramount comedy Action Point with Johnny Knoxville stumbled in ninth place on $2.4m from 2,032 venues. Studio executives will take heart from the performance of their grey dollar acquisition Book Club, which stars Diane Keaton, Candice Bergen, Jane Fonda and Mary Steenburgen and ranks fifth on $47.6m after three.
Avengers: Infinity War ranks fourth on $643m and will cross $2bn worldwide within the week. It currently stands at $1.966bn.
American Animals, one of the most talked-about films at Sundance this year, opened via The Orchard at number 27 on $134,793 in four sites for an excellent $33,698 average. MoviePass Ventures partnered with The Orchard on the acquisition. IFC Films opened A Kid Like Jake, another Sundance premiere, in a single theatre and it arrived at number 58 on $8,936.
Box office for the top 12 dropped 43.1% against last weekend and reached $100.4m. It dropped 44.3% against the comparable session in 2017 when Wonder Woman launched.
This weekend's wide releases are: Warner Bros' female ensemble Ocean's 8 starring Sandra Bullock, Cate Blanchett and a host of female super talents; action thriller Hotel Artemis starring Jodie Foster through Global Road; and A24's Sundance horror sensation Hereditary with Toni Collette, Gabriel Byrne and Ann Dowd.
Confirmed top 10 North America June 1-3, 2018
Film (Dist) / Conf wkd gross / Conf total to date
1 (1) Solo: A Star Wars Story (Buena Vista) Walt Disney Studios Motion Pictures International $29.4m $148.9m
2 (2) Deadpool 2 (Fox) Fox International $23.2m $254.5m
3 (-) Adrift (STX) STX International $11.6m –
4 (3) Avengers: Infinity War (1) (Buena Vista) Walt Disney Studios Motion Pictures International $10.5m $642.9m
5 (4) Book Club (Paramount) Bloom $7m $47.6m
6 (-) Upgrade (BH Tilt) $4.7m –
7 (5) Life Of The Party (Warner Bros) Warner Bros Pictures International $3.5m $46.4m
8 (6) Breaking In (Universal) Universal Pictures International $2.8m $41.3m
9 (-) Action Point (Paramount) Paramount Pictures International $2.4m –
10 (8) Overboard (Pantelion) MGM / Pantelion $1.9m $45.5m