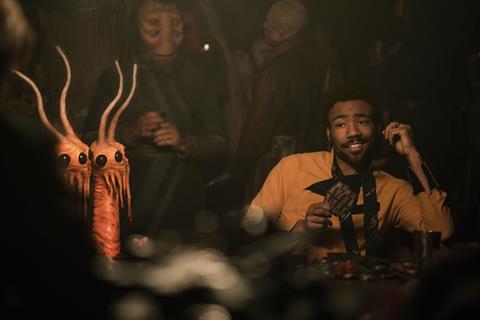 MAY 29 UPDATE: Lucasfilm's Solo: A Star Wars Story stumbled on a confirmed $84.8m over three days rising to a $103m over four in what ranks as the seventh highest four-day Memorial Weekend bow and falls well below early studio estimates.
Disney executives reminded reporters over the weekend that the four-day projection equated to the highest Memorial Day debut in four years, however this will be scant consolation for a spin-off saga that was initially projected to earn between $130m and $150m.
As the inquest into why the sci-fi fell so short of expectations begins at Burbank headquarters, the studio finds itself in the unusual position of lacking strong international results to bolster the overall performance. Based on Sunday estimates that the studio will update on Tuesday, Solo managed a lowly $65m from 54 territories including China.
Ron Howard assumed the directing reins after Lucasfilm fired Phil Lord and Chris Miller. Alden Ehrenreich stars alongside Donald Glover, Thandie Newton, Emilia Clarke, Woody Harrelson, Paul Bettany, and Phoebe Waller-Bridge.
Fox's R-rated superhero hit Deadpool 2 crossed $200m in its second session, adding $43.5m over three days for $208.2m, and $53.8m for $218.5m over four as it slipped one place to number two.
Box office for the top 12 generated $171.9m over the three-day session for a 15.3% drop from last weekend. However box office climbed 16.1% on the three-day Memorial Day weekend in 2017. Four days delivered $219.9m for a 27.1% gain on the four-day session last year.
This weekend's wide releases are: STX's sea survival drama Adrift starring Shailene Woodley and Sam Clafin; Paramount's comedy Action Point with Johnny Knoxville; and Blumhouse thriller Upgrade directed by Leigh Whannell and released via BH Tilt.
Confirmed top 10 North America May 25-27, 2018 (May 25-28, 2018)
Film (Dist) / Conf wkd gross / Conf total to date
1 (-) Solo: A Star Wars Story (Buena Vista) Walt Disney Studios Motion Pictures International $84.8m ($103m) –
2 (1) Deadpool 2 (Fox) Fox International $43.5m $208.2m ($53.8m $218.5m)
3 (2) Avengers: Infinity War (Buena Vista) Walt Disney Studios Motion Pictures International $17.4m $622.6m ($22.5m $627.6m)
4 (3) Book Club (Paramount) Bloom $10.1m $32.5m ($13.1m $35.3m)
5 (4) Life Of The Party (Warner Bros) Warner Bros Pictures International $5.3m $39.3m ($6.9m $40.9m)
6 (5) Breaking In (Universal) Universal Pictures International $4.3m $35.9m ($5.5m $37.1m)
7 (6) Show Dogs (Global Road) Global Road / FilmNation $3.3m $10.9m ($4.3m $11.9m)
8 (7) Overboard (Pantelion) MGM / Pantelion $3.2m $41.7m ($4.1m $42.6m)
9 (8) A Quiet Place (Paramount) Paramount Pictures International $2.4m $180.2m ($3.1m $180.3m)
10 (12) RBG (Magnolia) Magnolia International $1.3m $5.8m ($1.7m $6.2m)