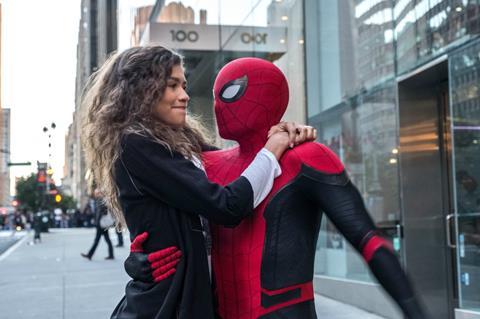 Sony's Spider-Man: Far From Home starring Tom Holland launches in its first markets of China, Japan and Hong Kong on Friday (28) ahead of the July 2 North American debut, and is looking at $80m-$90m this weekend.
When Spider-Man: Homecoming opened in the three territories in 2017 it grossed $76.6m in its first three days taking current exchange rates into account. Sources are projecting a conservative number for the latest episode given the volatility of China.
Homecoming opened in China on $69.2m in September 2017, debuted in Japan on $7.1m in August that year, and opened in Hong Kong on $3.3m in July 2017. It finished in the territories on $116.3m, $25.4m, and $9.1m, respectively. Overall the film grossed $545.9m internationally and $880.2m worldwide.
That said, Sony has been promoting the tentpole fairly aggressively. In China, Holland, Jake Gyllenhaal (who plays adversary Quentin Beck AKA Mysterio) and director Jon Watts took part in an immersive cultural experience with Ychina, and attended children's and fan event with social media local influencers. Holland was the cover story on Esquire China, and the talent sat for interviews in Beijing.
In Japan, promotional activity featured a take-over of screens in Japan's Toho Shinjuku complex counting down to the first screening, a nationwide tour by the film's stunt talent, and collaboration with Japanese rising star Kentaro Ito, the recipient of this year's Japan Academy Award for Newcomer of the Year who was appointed ambassador for the film.
Spider-Man: Far From Home is projected to gross in the range of $150m-$170m over its first six days in North America. By comparison, Homecoming opened on $117m over three days from July 7-9 in North America, and finished on $334.2m. In case Los Angelinos were not already aware of the imminent launch of the latest adventure, the studio floated an 80ft-long inflatable Spider-Man over the red carpet at Wednesday's (26) world premiere in Hollywood.
Chris McKenna and Erik Sommers wrote the screenplay to Spider-Man: Far From Home, the first Marvel Cinematic Universe film to follow the epic finale to spring smash Avengers: Endgame. Kevin Feige and Amy Pascal produced, and Louis D'Esposito, Victoria Alonso, Thomas M. Hammel, Eric Hauserman Carroll, Rachel O'Connor, the late Stan Lee, Avi Arad and Matt Tolmach are listed as executive producers.
Starring with Holland and Gyllenhaal are Samuel L. Jackson, Zendaya, Cobie Smulders, Jon Favreau, JB Smoove, Jacob Batalon, Martin Starr, and Marisa Tomei.
'Spider-Man: Far From Home': review