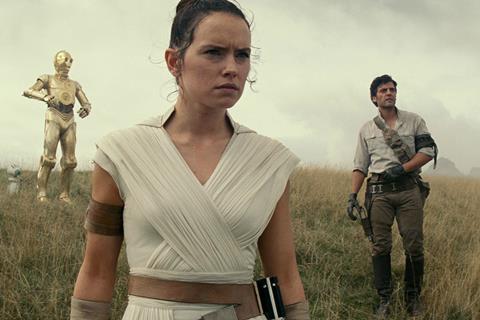 Disney executives reported on Tuesday (31) that Lucasfilm's Star Wars: The Rise Of Skywalker added $36.1m on Monday to reach $761.5m worldwide.
The sci-fi saga grossed $20.9m for $384.2m internationally, and $15.2m for $377.3m in North America as the international gross begins to pull away after overtaking North America last weekend.
The third trilogy finale in the 42-year-old series can still cross the $1bn global mark, although it is unlikely to catch up with its two predecessors. The Last Jedi finished on $712.4m internationally and $1.332bn globally. 2015's The Force Awakens is out of sight, and grossed $1.33bn internationally to rank sixth on the all-time pantheon, and fourth highest worldwide on $2.068bn.
The Rise Of Skywalker in the UK is pulling away from the pack and has generated $54.8m, followed by Germany on $46.6m, France on $36.3m, Japan on $33m, and Australia on $22.6m.
China has delivered $17.7m, Spain $15.5m, Mexico $12.7m, Italy $12.3m, Brazil $10.1m, Russia $8.6m, and Sweden $8m. Coming up is South Korea on January 8.
Fox's acclaimed racing drama Ford v Ferrari starring Golden Globe nominee Christian Bale and Matt Damon has reached $200.6m worldwide. Of that amount, $94m comes from international markets and $106.6m from North America.
Russia is the lead market on $10.1m, then France on $9.4m, South Korea on $9.3m, the UK on $7.9m, and Australia on $6.9m. Ford v Ferrari opens in Japan on January 10, while China is yet to be dated.