MAY 1 UPDATE: Tentpole overtakes Furious 7 as biggest foreign release ever in China on 2.43bn RMB.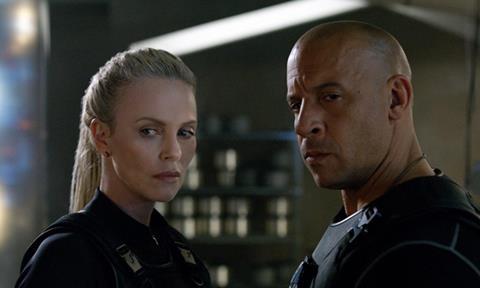 UPDATED: The Fate Of The Furious surged past the $1bn mark at the worldwide box office on Saturday to become the fifth Universal title to reach that milestone in the studio's 105-year history.
The studio's other titles to hit that mark include Jurassic World ($1.67bn), Furious 7 ($1.52bn), Illumination's Minions ($1.16bn) and Jurassic Park ($1.04bn).
The film now stands at $1.067bn globally after adding $73.9m from 69 territories in its third international weekend to reach $873.5m and become the tenth biggest international release in history. North America has generated $193.3m.
Japan delivered a $7.8m debut for the biggest in the series. China added $22.1m for $363.5m (2.43bn RMB) as the action tentpole overtook the 2.42bn mark set by Furious 7 to rank as the biggest foreign film of all time in China and the second biggest of all time behind The Mermaid on 3.4bn RMB.
Mexico stands at $33.6m, the UK has reached $33m, Germany $27.5m, Brazil $32.6m, Russia $26.5m, South Korea $23.3m and France $23m.
Australia has produced $19.5m, India $19m, Middle East $19m, Taiwan $18.7m, Indonesia $18.1m, Argentina $17.1m, Italy $14.5m, Spain $12m and Malaysia $11.3m.
The film began its $1bn-plus career with the biggest global opening of all time on $542m, comprising a record $443.2m from international and $98.8m in North America. F. Gary Gray directed and has now scored the highest global release of all time for an African American director.
It opened number one in 68 markets and in China, where the film had the largest three-day opening ever in that market on $199.1m.
The eighth instalment of the Fast And Furious franchise has already surpassed lifetime grosses of the first six films in the series.
It earned a further $5m from 858 IMAX screens, pushing the global IMAX total to $58m, including $2.5m from 394 IMAX screens in China, where that market has reached $27m.
Click here for full weekend international report.