UPDATE: Fox's The Martian shot straight to the top of the North American box office chart this weekend, opening with a confirmed gross of $54.3m from 3,831 theatres.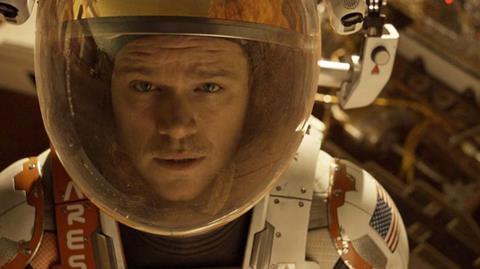 The space adventure from director Ridley Scott and star Matt Damon performed at the high end of industry expectations and gave Scott his biggest opening since Hannibal in 2001 and Damon his biggest since The Bourne Ultimatum in 2007. It came close to beating the $55.8m October opening record set in 2013 by another astronaut tale, Alfonso Cuaron's Gravity.
Powered by overwhelmingly positive reviews and buzz that began building after the film's Toronto festival premiere, the Fox release, which co-stars Jessica Chastain, Kristen Wiig and Jeff Daniels and is based on a best-selling novel, also dominated the international marketplace, grossing a confirmed $44.6m from 54 markets outside the US, for a worldwide opening total of $98.9m.
The Martian also joined the list of recent films that have opened well in the 3D format. Exhibition technology company RealD on Sunday reported that 46% of the film's estimated US take came from 3D screens (and that 42% of that 3D tally came from RealD equipped screens).
Last week's top US film, Sony's Hotel Transylvania 2, was off a modest 31.5% to a confirmed $33.2m for the weekend. The animated sequel, which dropped to second place on the chart, has now amassed $90.7m domestically.
After a couple of weeks in limited release, Lionsgate's Sicario expanded into 2,620 theatres and took a confirmed $12.1m (for a per-theatre average of $4,637), bringing its domestic total to $15.1m.
Warner Bros' The Intern dipped only 34.1% in its second weekend, ending up in fourth place with a confirmed $11.7m from 3,320 theatres, for a total to date of $36.6m.
Universal's Everest had a more dramatic drop in its third weekend, falling 57.4% with a confirmed $5.6m from 3,009 theatres, for a total of $33.3m.
Just outside the top ten, The Walk, director Robert Zemeckis' 3D real life adventure for Universal, opened in 448 theatres and took an estimated $1.6m.
Next weekend's only wide release is Pan, Warner Bros' 3D fantasy with Hugh Jackman starring and Joe Wright directing.
Confirmed top 10 North America Oct 3-4, 2015
Film (Dist) / Conf wkd gross / Conf total to date
1 (-) The Martian (Fox) Fox International $54.3m -
2 (1) Hotel Transylvania 2 (Sony) Sony Pictures Releasing International $33.2m $90.7m
3 (10) Sicario (Lionsgate) Lionsgate International $12.1m $15.1m
4 (2) The Intern (Warner Bros) Warner Bros Pictures International $11.7m $36.6m
5 (3) Maze Runner: The Scorch Trials (Fox) Fox International $7.8m $63.4m
6 (5) Black Mass (Warner Bros) Bloom $5.8m $52.5m
7 (4) Everest (Universal) Universal Pictures International $5.6m $33.3m
8 (6) The Visit (Universal) Universal Pictures International $4m $57.7m
9 (8) War Room (TriStar/Affirm) $2.8m $60.6m
10 (7) The Perfect Guy (Screen Gems) SPRI $2.4m $52.6m