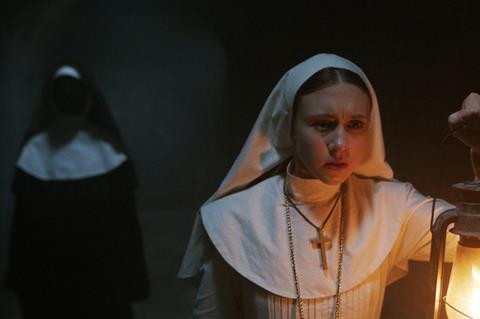 Warner Bros/New Line's horror The Nun held off the challenge of Fox's new arrival The Predator by approximately $400,000 to retain its international box office title, earning an estimated $33.1m to boost the running total to $143.6m after two weekends.
The Predator came in at $30.7m, while The Meg crossed $500m worldwide, Ant-Man And The Wasp crossed $400m at the international box office, and Disney executives said the studio has already attained its second highest global annual gross of all time.
WARNER BROS PICTURES INTERNATIONAL
Horror hit The Nun stands at $228.7m worldwide and ranks number one in 36 markets, opening top in two new markets and holding steady in the UK, Latin America, Germany, Spain, Holland, Indonesia, and Philippines.
It is the highest grossing film in the Conjuring universe in 18 markets including Spain, Brazil, Indonesia, Romania, UAE, and Ukraine, and the highest Warner Bros release for the year-to-date in 19, among them Brazil, India, Argentina, Indonesia, Philippines, and Poland.
Brazil led the second session on $3.5m for $12.6m, followed by the lead market Mexico on $3.3m for $17m, the UK on $2.3m for $9.8m, Spain on $1.9m for $7.5m, Germany on $1.7m for $5m, and Indonesia on $1.4m for $12.7m to become the studio's biggest ever release in the territory.
The Philippines delivered $1.4m for $4.4m, Australia $1.3m for $4.7m, and India delivered $782,000 for $8m. The Nun opened in Belgium on $1.35m, the highest in the Conjuring universe.
Crazy Rich Asians grossed $7.3m from 29 markets for $37.9m, spurred on by a $2.1m Indonesian debut after debuting on a non-traditional Tuesday to take advantage of the Islam New Year holiday.
The rom-com opened at number three in the UK on $2m, and added $2.4m in its third weekend in Australia, where it held on to number one and has grossed $12.2m to rank as the film's top market so far.
The Meg crossed $500m worldwide, adding $6.1m from 64 markets for $368.2m international running total, and $505.3m worldwide. The second weekend in Japan delivered $2.1m for $7.3m. China, Mexico and the UK are the top markets on $153m, $20.5m, and $19.9m, respectively.
Teen Titans Go! To The Movies grossed $1.7m from 27 for $19m and opened in Australia on $557,000.
FOX INTERNATIONAL
Opening in 72 markets, Shane Black's action reboot The Predator earned $30.7m and ranked number one in 25 led by Russia on $4.7m at number one, the UK on $3.1m including previews at number one, Japan on $2.1m at number two, Australia on $1.7m including previews at number two, Indonesia on $1.4m at number three, Brazil and Spain on $1.3m each at number two, South Korea on $1.2m including previews at number four, Germany on $1.2m at number two, Thailand on $1.1m at number one, and Hong Kong on $948,000 at number one.
ASIA UPDATE
David lam's action film L, Storm opened on $32.2m. Louis Koo and Julian Cheung star.
PARAMOUNT PICTURES INTERNATIONAL
Mission: Impossible – Fallout enjoyed another resurgence as $15.9m from 57 markets elevated the international haul to $544.8m and $760.9m worldwide. The third weekend in China contributed $12.6m for a $162.3m running total. The UK has produced $31.2m after eight weekends.
SONY PICTURES RELEASING INTERNATIONAL
Searching added $6m from 17 Sony Pictures Releasing International markets as the early tally climbed to $26.2m. South Korea continues to lead all markets in its third weekend on $4.5m for $19.3m.
The Equalizer 2 added $4.2m from 50 for $78.4m. Family release Alpha from Studio 8 added $3.5m from 42 for $34.1m. Hotel Transylvania 3: Summer Vacation crossed $500m worldwide to reach $503.1m as a further $3.3m from 61 international markets boosted the tally to $337.8m.
WALT DISNEY STUDIOS MOTION PICTURES INTERNATIONAL
Executives at The Walt Disney Studios reported that the studio had overtaken the 2017 $6.458bn tally to achieve the company's second biggest year behind 2016's record $7.6bn with more than three months to go.
Pixar's Incredibles 2 added $3.6m from 25 active territories for $577.8m. The UK leads the way on $71.4m followed by China on $53.7m and Japan on $42.3m.
Ant-Man And The Wasp crossed $400m at the international box office as an estimated $2.3m weekend from 16 active territories elevated the running total to $401.6m. It becomes the 14th Marvel Cinematic Universe release to accomplish the feat. The global haul has reached $617m. China remains the lead territory on $120.6m, followed by South Korea on $42.4m and the UK on $22.7m.
Christopher Robin added $5m from 30 active territories for $58.7m and stands at $153.7m worldwide. A $3.5m debut ensured the family film ranked as the top Western release in Japan. The UK is the lead territory on $16.9m, then Mexico on $5.2m and Russia on $4.1m.
UNIVERSAL PICTURES INTERNATIONAL
Rowan Atkinson in Johnny English Strikes Again infiltrated its first markets ahead of the October 28 North American release, earning $3.3m from six. Malaysia delivered $1.9m in a strong number one for the British actor's highest opening day. Mexico produced $1.1m for number two and the highest debut in the Johnny English and Mr Bean franchises. Colombia produced $257,000 for number two.
Mamma Mia! Here We Go Again added $3.3m from 52 active territories to reach $163.3m and $383m worldwide. BlacKkKlansman added $2.5m from 24 active territories for $26.2m and $72.2m worldwide. Asghar Farhadi's mystery drama Everybody Knows (Todos Lo Saben) opened in Spain on $906,000 for the director's best debut in the territory.
LIONSGATE INTERNATIONAL
Crime mystery A Simple Favor starring Anna Kendrick and Blake Lively entered the international marketplace with an early $3.5m from 28 markets. Australia led the way on $2m including previews to rank third.
STX INTERNATIONAL
Mark Wahlberg action thriller Mile 22 brought in a further $1.9m from 49 markets to reach $21m. Jennifer Garner action release Peppermint added $1.8m from 24 territories for $3.9m. Survival drama Adrift stands at $26.5m, and Melissa McCarthy action comedy The Happytime Murders an early $4.2m.