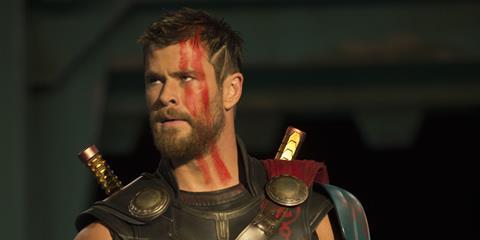 Marvel Studios' Thor: Ragnarok ventured into its first international markets and plundered a stirring $107.6m from 36 material territories as The Walt Disney Studios crossed $4bn worldwide.
WALT DISNEY STUDIOS MOTION PICTURES INTERNATIONAL
The studio has now become the only one to reach the milestone in five consecutive years. The $4.103bn tally comprises $2.701bn internationally and $1.402bn in North America.
Active in approximately 52% of the marketplace, Thor: Ragnarok scored the highest October opening weekend on record in many places.
The tentpole delivered $15.8m in the UK in the biggest non-James Bond October. South Korea generated $15.5m for the third biggest October for a Western film. An $8.4m debut in Australia produced the biggest October opening, as did $8.3m in Brazil, $7.4m in France, $5.5m in Indonesia, and $5.4m in Taiwan.
Elsewhere, Ragnarok produced $3.8m in the Philippines, $3.5m in Malaysia, $3.4m in Spain, $2.9m in Hong Kong, $2.2m in Singapore, and $2m in Argentina. Imax generated $6m from 39 territories on 189 screens. Thor: Ragnarok is yet to open in China, Mexico, Germany, Russia and Japan and opens in virtually all its remaining markets day-and-date with North America on the weekend of November 3.
Chris Hemsworth stars alongside Tom Hiddleston, Mark Ruffalo, Cate Blachett, Idris Elba, Tessa Thompson, Karl Urban and Anthony Hopkins. Taika Waititi directed.
Following its premiere at the Morelia International Film Festival, Pixar's Coco debuted in Mexico ahead of the Day Of The Dead on $8.4m in the biggest opening weekend for an original animation property and the biggest debut released outside the summer holidays. It arrives in North America on November 22.
WARNER BROS PICTURES INTERNATIONAL
Geostorm crossed the $100m mark through Warner Bros Pictures International as $49.3m from 61 markets boosted the running total to $113.4m. China was the key driver as the film debuted at number one on $34.1m including Thursday night previews.
In second weekend holdovers, the film added $1.8m in Mexico for $7.1m; $1.7m in Russia for $8.2m; $906,000 in South Korea for $7.2m; $903,000 in the UK for $4.5m; $722,000 in Brazil for $3.1m; $609,000 in UAE for $2.5m; and $608,000 in Germany for $2.2m. Geostorm stands at $6.3m in Taiwan after three sessions. It debuts in Italy this week.
A $6.3m for It in 54 markets elevated the horror smash's tally to $342.9m and the worldwide haul to $666.7m. Italy delivered $3.6m in its second weekend for $13.7m and the top three markets are the UK on $42.4m, Germany on $33.4m, and Mexico on $27.6m. Japan is the final key market and opens this week.
The LEGO Ninjago Movie used a $3m session from 58 markets to climb to a lacklustre $58.1m. The UK is the top market on $10.8m, followed by Germany on $5.6m and Australia on $4.2m.
CONSTANTIN
Bora Dagtekin's comedy Suck Me Shakespeer 3 starring Sandra Hueller from Toni Erdmann, Uschi Glas and Elyas M'Barek grossed $18.3m and stands at $19m. The story follows an ex-con who finds work as a teacher.
SONY PICTURES RELEASING INTERNATIONAL
Blade Runner 2049 has reached $142m after a $16.6m session from 63 markets via Sony Pictures Releasing International. However the $150m film's prospects of breaking even took a big blow as the China debut delivered $7.6m. Executives at Alcon Entertainment and Sony had hoped for a big number to improve commercial prospects. A number one $2.7m debut in Japan was the other weekend highlight and the sci-fi sequel stands at $223.4m worldwide including the lacklustre $81.4m North American tally.
The Emoji Movie added $2.2m from 41 markets for $125.8m. Awards contender Call Me By Your Name debuted in the UK on $300,000 from 112 locations.
FOX INTERNATIONAL
Fox International executives reported that Kingsman: The Golden Circle continues to bear down on the $300m mark and grossed $13.4m from 44 markets to reach $280.6m. In the second weekend China generated $9.5m for $63.5m, while France also delivered impressive results as $2m raised the tally to $11.2m after three sessions.
Air crash survival drama The Mountain Between Us with Idris Elba and Kate Winslet stands at $16.9m following a $1.8m session, and local language hit Condorito stands at $6.7m, of which $1.6m comes from Peru and $1.5m from Chile, where it now ranks as the top Latin American animation of all time, after three weekends.
LIONSGATE INTERNATIONAL
Jigsaw ventured into 46 markets and emerged with $9.5m through Lionsgate International licensees. The latest Saw horror franchise instalment was active in three major markets and opened 7% higher than Saw 5 and 34% higher than Saw 6 compared to the same markets. The film did best in UK on $2.3m to rank second, while it grossed $1.7m in a number three debut in Russia. Germany produced $1.4m and second place. Italy, France, Australia, South Korea and Belgium all open this week.
CHINA UPDATE
Yang Song and Chiyu Zhang's body-switch comedy Never Say Die added $6.9m for $320m in China. Allen Ai, Xue Haowen, Li Ma, and Teng Shen star.
UNIVERSAL PICTURES INTERNATIONAL
Universal Pictures International executives reported that Happy Death Day was shaping up for a $4.7m weekend in 39 territories as the early running total climbed to $20.2m. The horror opened in 13 territories led by an $830,000 number three debut in Mexico, which typically rewards horror films and has the added bonus of the Día de Muertos (Day of the Dead) and Halloween celebrations this week. The UK was the top holdover market on $573,000 for $2.8m after two sessions. Brazil generated $381.000 for $3.8m after three.
Tom Cruise adventure drama American Made added $1.4m from 41 for $80.1m with Japan holding well in its second session on $911,000 for $4m and Russia on $3.9m after three. Argentina is the final market this week. Michael Fassbender thriller The Snowman took $3.1m from 38 for $24.8m. Germany is the top holdover market on $883,000 for $2.6m after two, while Italy stands at $2.6m and the UK $4.2m.