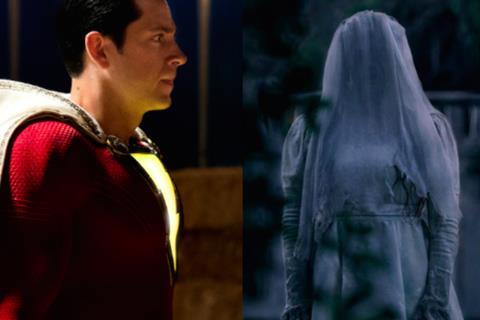 Warner Bros Pictures International executives find themselves with the high-class problem of two films competing for Hollywood's international box office crown this weekend.
Superhero adaptation Shazam! has dominated the global and international charts for the past two weekends and faces a challenge from The Curse Of La Llorona, the latest horror film to emerge from The Conjuring stable that launches in select key markets this weekend day-and-date with North America.
Shazam! has generated $178m and debuts in Japan on Friday (19), which could help the DC Entertainment and New Line tentpole on its way past the $200m international mark. However the question is, how much of its box office will La Llorona cannibalise?
The horror story from New Line is based on a Mexican myth about the ghost of a woman who drowned her children. The film grossed $3.8m on its Wednesday opening day in France, Italy and South Korea, grossing $430,577 (€380,570) in France and rising to $519,487 (€459,622) including previews. It opened in Australia, Germany, Spain, Russia, Brazil, and Mexico on Thursday. The LEGO Movie 2: The Second Part has grossed $82.2m, and The Mule $67.5m.
Universal Pictures International executives report that DreamWorks Animation's How To Train Your Dragon: The Hidden World has amassed $354.6m, while Us, Jordan Peele's horror follow-up to Get Out that stars Lupita Nyong'o, stands at $73.4m. Last weekend's release, the body-swap comedy Little starring Issa Rae, Regina Hall and Marsai Martin, has reached an early $3.3m. It opens this week in South Africa, Trinidad & Tobago, and a smattering of African and Caribbean nations. Boy Erased starring Lucas Hedges opens in Japan, Fighting With My Family in Singapore and Thailand.
Captain Marvel stands at $682.3m through Walt Disney Studios Motion Pictures International, and Dumbo has grossed $190.6m.
Paramount Pictures International's Stephen King horror adaptation Pet Sematary has grossed $40.3m. Comedy remake What Men Want has reached $17.2m, and family animation Wonder Park $36.7m.
YA adaptation After based on Anna Todd's publishing phenomenon stands at $19.8m outside the US through Voltage Pictures licensees and has grossed $4.2m in Italy through Leone, $3.9m in Germany (Constantin), $1.5m in Spain (Sun), $1.1m in Mexico (Sun), and $750,000 in France (SND), and more than $492,000 in Canada (VVS).
The drama starring Josephine Langford and Hero Fiennes Tiffin opens this weekend in Russia (Volga Films), Singapore (Shaw Renters), Indonesia (PT Prima), India (PVR), and Belgium (Belga), among others.
Hellboy has amassed more than $15.3m through Millennium Media' international partners, including $2.5m in Russia (Top Film), $1.7m in South Korea (Woo Sung), $1.3m in the UK through Lionsgate, $865,000 in Italy (M2), $822,000 in Mexico (Imagem), $728,000 in Indonesia (PT Amero), $707,000 in Germany (Universum), and $678,000 in Australia (Roadshow).
Fox International gives the faith-based drama Breakthrough starring Chrissy Metz, Josh Lucas and Topher Grace a push in Australia and Mexico, among others, in the same week it launches in North America. 1940s-set Bollywood romance Kalank opens in India and the UK.