X-Men: Days of Future Past took control of the international box office this weekend, grossing $171.1m from more than 100 countries to become the biggest opener ever for Fox International, beating Avatar's $165m in December 2009.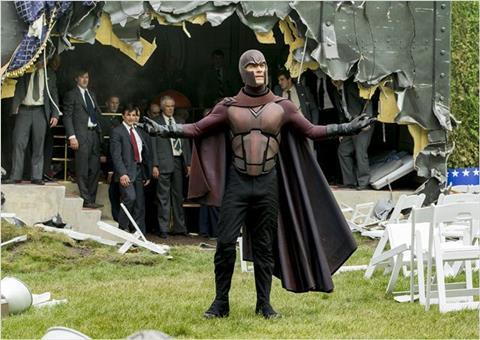 With an estimated North American take of $90.7m (set to increase by the end of the US Memorial Day holiday weekend) added in, the film's global opening gross of $261.8m is the biggest of 2014, the biggest for the X-Men franchise and the second biggest ever (after Star Wars: Episode III - Revenge of the Sith) for Fox.

The seventh X-Men installment was the number one film in all its markets and the biggest Fox International opener ever in 11 countries, including South Korea, Brazil and India.

In China, Days of Future Past grossed $37.7m (for the three day weekend) from 6,000 screens, beating the local openings, said Fox International, of Captain America: The Winter Soldier and The Amazing Spider-Man 2.

In the UK the film took $14.2m from 1,400 screens, the biggest ever opening for an X-Men title in the territory.

In South Korea the take was $13.5m from 1,045 screens, Fox International's biggest opening ever in the market.

France produced $10.6m from 751 screens, Mexico $10.4m from 2,441 and Russia $10.3m from 2,230.

Blended, the only other studio film making its international debut this weekend, opened in the UK and Germany through Warner Bros Pictures International (WBPI) with a total of $2.1m from 750 screens.

After its big global launch last weekend, WBPI and Legendary's Godzilla managed an estimated $34.5m (4.5m admissions) from 13,700 screens in 64 markets this weekend, bringing the film's international running total to $166.6m and pushing its global tally past $300m.

With a bank holiday weekend boosting business, Godzilla was down 51% in the UK with an estimated $4.3m from 543 locations, for a market total of $19.3m.

Russia produced an estimated $2.5m from 1,580 screens, for a market total of $13.2m. Mexico generated $2.4m from 1,719 screens, for a total of $13.2m. And France delivered $2.4m (240,000 admissions) from 602 screens, for a $9.8m total.

Godzilla reached $10.2m in Australia and $8.9m in Germany. .

The Amazing Spider-Man 2 took $11.2m from 92 territories, bringing the film's international total to $489m. That, according to Sony Pictures Releasing International, makes the film the biggest international grosser of the year so far.

The film has performed best in China, where the take now stands at $90.4m, the UK, where the gross has reached $39.7m, and South Korea, where the tally is $33.7m.

Neighbors, from Universal Pictures International (UPI), took $8.2m from 2,600 dates in 35 territories for an international total to date of $67.4m.

In the UK and Ireland, where the film is titled Bad Neighbours, the film was third with $2.2m from 454 dates for a 17-day total (including previews) of $22.8m. In Germany the film took $1.8m from 577 dates for an 18-day total of $12.1m and in Australia it was number three with $1.7m from 233 dates for an 18-day total with previews of $13.6m.

Frozen added another $6.7m to bring its international total to date, with all markets having opened, to $818.7m. With a global total of $1,219bn, the animated tale has overtaken Iron Man 3 as the fifth highest global grosser of all time, according to Walt Disney Studios Motion Pictures International (WDSMPI).

In Japan, Frozen has now grossed $193.7m, making it the biggest Disney film of all-time in the territory, the number four movie of all-time in the market and the number three Western title, behind only Titanic and Harry Potter and the Sorcerer's Stone.

Fox International's Rio 2 took $4.8m from international this weekend , bringing its international total to $329.2m. The studio's The Other Woman picked up another $3.8m, lifting its international total to $89.9m, and The Grand Budapest Hotel added $854,707, putting it on the verge of crossing $100m internationally.

WDSMPI's Captain America: The Winter Soldier grossed another $0.7m, for an international total (with all markets now opened) of $454.1m.

Ocho Apellidos Vascos (Spanish Affairs), distributed in Spain by UPI, held at number two for its eleventh weekend in the territory, taking an estimated $490,000 from 320 dates for a 73-day total of $74.4m.

UPI opened Grace of Monaco in Russia and the film landed at number four on the local top ten with $710,000 from 397 dates.