MARCH 14 UPDATE: Zootopia continued to decimate the Hollywood competition and earned a further $89.3m in a rousing session thanks in large part to a $56.5m haul in China that propelled the international running total to $294.9m.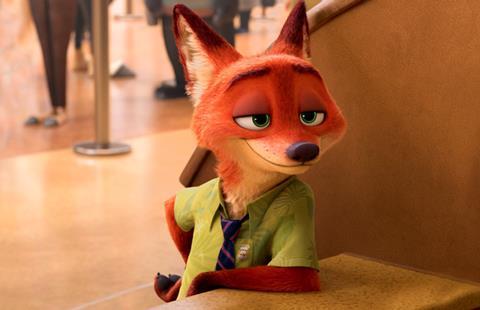 WALT DISNEY STUDIOS MOTION PICTURES INTERNATIONAL
UPDATED: After 10 days the film has generated $109m in China and overtook Big Hero 6 to rank as the biggest Disney Animation or Pixar release and the third biggest animation of all time.
Zootopia held on to the number one spot in Germany where it stands at $13m after two weekends, South Korea on $14.7m after four, and Russia on $20.6m after two, consolidating its status as the biggest Disney Animation or Pixar release of all time.
France has delivered $23.8m, Mexico $14m, and Argentina $6.3m. The animation arrives this week in Australia and Brazil. The global tally has reached $438.9m.
Imax generated $9.8m worldwide from a combination of Zootopia, 10 Cloverfield Lane, Gods Of Egypt, andAllegiant.
FOX INTERNATIONAL
UPDATED: 20th Century Fox International crossed the $1bn mark in its second fastest time behind the January 30 record inspired by Avatar in 2010.
Dreamworks Animation's Kung Fu Panda 3 opened top in all 15 of its new markets this weekend and earning $28.1m overall from 20 markets as the early running total reached $219m.
In a string of number one debuts, the animation arrived in the UK on $6.8m, Mexico on $4.9m, Singapore $1.8m, Spain on $1.6m, Malaysia $1.5m, and the Philippines $1.3m.
After seven sessions China has generated $146.1m via Oriental Dreamworks. The family hit opens in 40 markets this week including Germany, Italy, and Sweden.
Deadpool added $11.2m from 61 markets for $380m. The superhero saga has reached $51.4m after five weekends in the UK and $27.3m in France after the same amount of time.
The Revenant used a $6.7m weekend from 41 for $263.9m and stands at $20.9m in France after three weekends. The survival thriller opens in China this week.
The Martian crossed $400m to stand at $400.1m, while Alvin & The Chipmunks: The Road Chip has grossed $145.8m. Joy has generated $44.3m and scored the biggest opening for David O Russell in South Korea on $712,000.
No Crook No Crime (Cien Anos De Perdon), the Spain-Argentina-France co-production from Fox International Productions and K&S Films, added $1.3m for $3.6m in Spain and $341,000 for $938,000 in Argentina. The running total from both markets stands at $4.6m.
FoxStar/Fox International Productions drama, Neerja brought in a further $715,000 in India to rank number one again and reach $14.7m. The international tally is $15.9m.
LIONSGATE INTERNATIONAL
UPDATED: The Divergent Series: Allegiant arrived in 45 markets one week ahead of the North American debut, earning $25.3m from more than 7,000 screens.
The YA saga delivered number one results in France on $5m, Brazil on $2.8m, the UK $2.6m, Italy on $1.8m, and Spain on $1.8m and also secured pole position in Benelux.
Allegiant opens this week in Germany, Mexico, and Denmark and Norway.
Gods Of Egypt brought in a further $25.9m from 73 markets powered by a $20m number two debut in China as the running total surged to $81.1m. Russia has produced $9.4m and South Korea $5.3m.
ASIA UPDATE
Ip Man 3 added $13m to reach $142.5m, and The Mermaid grossed $3m for $522.1m.
NU IMAGE
London Has Fallen added a further $12m via Nu Image licensees as the running total vaulted to $30m.
UNIVERSAL PICTURES INTENATIONAL
UPDATED: Hail Caesar! grossed $3.8m from 43 territories for $23.8m and opened at number two in Italy on $1.1m. It added $1.2m in its second weekend in the UK for $4.6m.
The Witch added $1.3m from four territories for an early $2.2m and debuted at number seven in the UK on $650,000 from 179 sites. The horror film added $623,000 in its second weekend in Brazil for $1.4m.
The Danish Girl took $1.1m from 40 territories for $48.8m, while German-language production Anne Frank swelled its running total in Germany, Austria, and Switzerland by $519,000 to $1.7m.
eONE
Best picture Oscar winner Spotlight added $3.7m through mostly eOne licensees to reach $38.2m. The film has amassed $8.3m in the UK and $1.8m in Germany.
WARNER BROS PICTURES INTERNATIONAL
UPDATED: How To Be Single added $2.5m from 45 markets for $46.3m. The comedy stands at $7.7m in the UK, $6.7m in Australia, and $3.4m in Taiwan.
FILMNATION
Room grossed $1.9m via all licensees including $1.4m from 20 specialised releases through Universal territories. The Universal running total is $6.8m and the drama has amassed $16.9m overall.
PARAMOUNT PICTURES INTERNATIONAL
10 Cloverfield Lane opened in six markets for $1.5m including $1m in fourth place in Australia. The thriller arrives this week in the UK, France, Spain, and Belgium, Switzerland.
Zoolander 2 has reached $26.5m, and The Big Short $59.8m overall and $3m in Japan after two weekends. 13 Hours has amassed $10.9m.
SONY PICTURES RELEASING INTERNATIONAL
UPDATED: The Brothers Grimsby took $3.1m and arrived in 13 new markets this weekend including Russia, where the Sacha Baron Cohen comedy took $934,000, and Germany, where it arrived on $560,000. The UK has produced $6.2m after three sessions and the international running total is $12.4m. It opens in Spain this week.
The Lady In The Van added $1.2m for $3.8m in Australia and has generated $25m overall.
QED INTERNATIONAL
Dirty Grandpa, originally licensed by QED International, has amassed $51.3m internationally and $86.9m worldwide.