Zootopia has reached $320.2m via Walt Disney Studios Motion Pictures International as studio executives aim to capitalise on debuts in Australia and Brazil.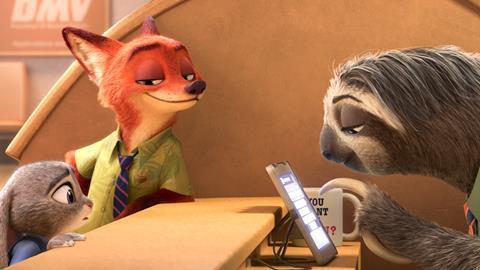 As of Friday the family hit stood at $479.4m worldwide. It should soar past the half-billion mark and approach $400m internationally on the back of two major debuts and strong holds.
Zootopia has grossed $130.4m in China, $24.3m in France, $22m in Russia, $15.7m in Germany, $15.1m in South Korea, and $14.3m in Mexico.
DreamWorks Animation's Kung Fu Panda 3 arrives in more than 40 territories this weekend, among them Scandinavia, Argentina, Hong Kong, Venezuela, and South Africa.
After a restrained early roll-out, the animation stands at $223.8m internationally including approximately $146m from China through Oriental Dreamworks.
Lionsgate International's The Divergent Series: Allegiant took $25.3m in last weekend's opening session and there should be plenty more to come with Mexico, Germany, and Denmark opening this weekend. Gods Of Egypt stands at more than $81.1m.
By Sunday Millennium Films' thriller London Has Fallen had grossed more than $38m through Nu Image licensees.
The Gerard Butler starrer arrived in South Korea last weekend via Woo Sung on $1.9m, Mexico last weekend on $1.3m through Sun, and Germany last on $1.2m through Telepool.
The UK haul has attained more than $9.3m, Italy more than $2.4m and Hong Kong more than $1.2m.
Universal Pictures International executives report that The Witch has taken an early $3m, Hail Caesar $25.5m, The Danish Girl $49.3m, and Room $7.5m from Universal markets.
The Brothers Grimsby stands at $14m of which $12.1m comes from Sony Pictures Releasing International markets and $1.9m from Village Roadshow licensees. The Lady In The Van has notched up $25.1m
Paramount Pictures International executives report that 10 Cloverfield Lane has taken $2.4m, 13 Hours $10.9m, The Big Short $60.3m, Daddy's Home $88.9m, and Zoolander 2 $26.4m.
Warner Bros Pictures International's comedy How to Be Single stands at $47.3m and the next key market is Germany on April 7.