EXCLUSIVE: Co-stars Jean Reno and Christian Clavier to hit Cannes today (May 15).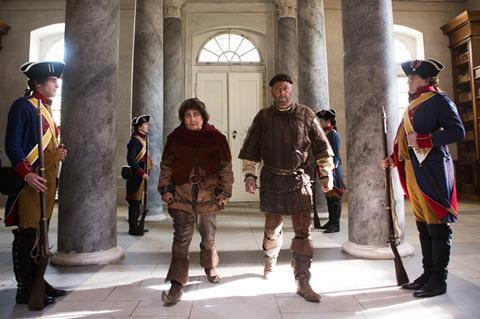 Gaumont's The Visitors: Bastille Day, a reboot of the popular French 1990s film franchise starring Jean Reno and Christian Clavier, has been racking up buyers since its launch at the EFM.
The film, which is in post-production, has sold to Benelux (Paradiso Filmed Entertainment), Spain (A Contracorriente Films), Switzerland (JMH Distributions), CIS (Luxor Entertainment), Greece (Odeon), Turkey (Ozen Film), China (H.G.C. Entertainment), Middle East (Four Star), Portugal (Outsider Films) and Gaumont has done a pan-European deal with Monolith/Freeman.
The cast of the film, led by Reno and Clavier as comic time travellers Godefroy the Hardy and Jacquasse the Crass, will hit the Croisette today (May 15) to meet buyers.
"The franchise is back…fresh, modern and blending all generations of actors for a large audience," said Gaumont sales chief Cécile Gaget.
Directed by franchise creator Jean-Marie Poire, The Visitors: Bastille Day transports the hapless anti-heroes back to the French Revolution.
Other cast members include Christian Clavier, Jean Reno, Franck Dubosc, Karin Viard, Sylvie Testud, Marie-Anne Chazel, Ary Abittan and Alex Lutz.
Veteran French actor Clavier has seen his star rise again following Serial (Bad) Weddings and Do Not Disturb which did well across continental Europe.
Gaumont, which is co-producing the €25m ($28m) production with Ouille Productions, will release The Visitors: Bastille Day in France on April 6 2016.