Captain Fantastic's Matt Ross wins director prize; animation The Red Turtle wins special prize.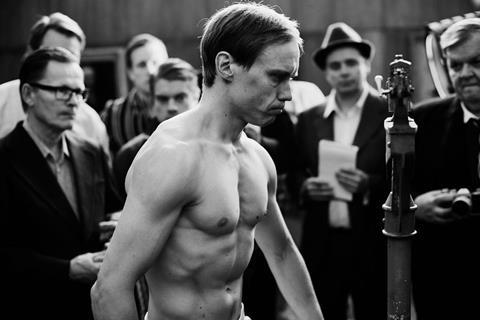 Scroll down for full list of winners
Finnish boxer drama The Happiest Day In The Life Of Olli Maki, directed by Juho Kuosmanen, has won the Un Certain Regard prize at the 69th Cannes Film Festival.
After two Cinefondation-selected shorts, Kuosmanen has made his feature debut with this film inspired by the real life of Olli Maki, the first Finn to fight for the world championship in featherweight boxing, who is distracted by his first love on the day of the big fight.
Jarkko Lahti, Oona Airola and Eero Milonoff star in the black-and-white film, which shot on 16mm. B-Plan will release in Finland in September, with theatrical releases also secured for Germany, France and Denmark.
The Finland-Germany-Sweden co-production is produced by Aamu Film Company, One Two Films, Tre Vanner and Film Vast. Les Films du Losange handles sales
This year's Un Certain Regard strand presented 18 films in competition from 20 different countries. Seven of the features, including Olli Maki, were first films. Mohamed Diab's Clash (Eshtebak) opened the section.
The jury was presided over by Swiss actress Mathe Keller and comprised Austrian director/producer Jessica Hausner, Mexican actor/director Diego Luna, Swedish director Ruben Östlund and French actress Céline Sallette.
Jury Prize
Koji Fukada's Harmonium won the jury prize. The Japanese director, who has toured much of the festival circuit with films including Hospitalité and Au Revoir l'Eté, screened in Cannes for the first time with his psychological thriller about a man who hires an old acquaintance at his workshop, only for the ex-convict to begin meddling in his family affairs.
Starring Tadanobu Asano (Journey To The Shore), the film is co-produced by Nagoya Broadcasting Network and France's Comme des Cinemas (co-producer of Naomi Kawase's An and Kiyoshi Kurosawa's Journey To The Shore). MK2 handles sales.
Best director
US actor-turned-director Matt Ross won the best director award with Viggo Mortensen-starrer Captain Fantastic.
It marks Ross's second feature behind the camera following 28 Hotel Rooms in 2012. Captain Fantastic premiered at Sundance in January and has distribution in several territories, including Universum in Germany and Bleecker Street in the US.
Mortensen stars as a father of six who leaves his reclusive existence in the forests of the Pacific Northwest to enter the wider world after the death of his wife. Cinematographer Stéphane Fontaine is also at Cannes with Paul Verhoeven's main Competition title Elle.
Sierra/Affinity handles sales.
Best screenplay
French film-making sisters Delphine and Muriel Coulin won best screenplay for The Stopover, adapted from a novel by Delphine Coulin.
The France-Germany co-production marks the second feature by the duo, who were in Critics' Week 2011 with 17 Girls.
It centres on two female soldiers fresh, from a tour of duty in Afghanistan, who are given three days of leave at a five-star resort in Cyprus before returning home.
The cast includes French pop star and actress Soko (star of another Un Certain Regard title, The Dancer) and Greece's Ariane Labed, who won the best actress award at Venice in 2010 for Attenberg and appears in the upcoming Assassin's Creed.
Films Distribution handles sales.
Special prize
Un Certain Regard's special prize went to animation The Red Turtle.
UK-Dutch animator Michael De Wit makes his feature animation debut after a series of critically acclaimed shorts including the Oscar-winning Father And Daughter.
The Red Turtle also marks Studio Ghibli's first international co-production, with De Wit making the film in collaboration with Isao Takahata, director of celebrated animations Grave Of The Fireflies and The Tale of the Princess Kaguya.
The fantastical tale centres on a man marooned on a desert island who tries to escape until he encounters a strange turtle. The screenplay was co-written by Pascale Ferran, who was at Cannes in 2014 with Bird People.
Wild Bunch handles sales and the film was snapped up by Sony Pictures Classics for North America and Latin America during the festival.
Cannes' main Competition prizes, including the Palme d'Or, will be announced at an awards ceremony tomorrow evening (May 22).
Prize of Un Certain Regard
The Happiest Day in the Life of Olli Mäki, dir. Juho Kuosmanen
Jury Prize
Harmonium (Fuchi ni Tatsu), dir. Koji Fukada
Best Director
Matt Ross, Captain Fantastic
Best Screenplay
Delphine Coulin, Muriel Coulin, The Stopover (Voir du Pays)
Special Prize
The Red Turtle (La Tortue Rouge), dir. Michael Dudok de Wit