The Together Project was directed by Solveig Anspach, who died last August.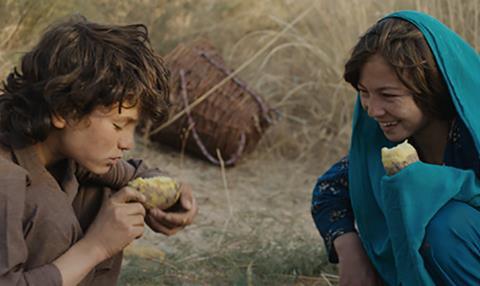 Afghan fantasy drama Wolf And Sheep has picked up the Art Cinema Award at the 48th Directors' Fortnight in Cannes.
It marks the completion of a six-year journey with Cannes for Afghan director Shahrbanoo Sadat, who was 20 when selected as the youngest participant of the festival's Cinefondation Residency, where she began to develop this debut in 2010.
Wolf And Sheep follows a group of Afghan shepherd boys and girls living in a remote village, where folklore helps explain the world's mysteries.
Starring largely non-professional actors, Wolf And Sheep was shot in Tajikistan because it was too dangerous for the crew to shoot in Afghanistan.
The Denmark-France-Sweden-Afghanistan co-production is produced by Katja Adomeit and is being sold by Alpha Violet.
Although considered a non-competitive section, the film was selected for the sponsored prize over titles such as Pablo Larrain's Neruda, starring Gael Garcia Bernal, Laura Poitras' Julian Assange documentary Risk and Paul Schrader's Dog Eat Dog, starring Nicolas Cage and Willem Dafoe.
Last year, the main prize at Directors' Fortnight was won by Ciro Guerra's Embrace Of The Serpent, which went on to be nominated for an Academy Award.
Posthumous prize
The Together Project (L'Effet Aquatique), from the late Icelandic-French director Solveig Anspach, won the Fortnight's SACD Prize, presented annually to a French-language film by the Society of Dramatic Authors and Composers.
The romantic comedy marked the final film from Anspach, who died last August following a battle with cancer aged 54.
She had previously been at Directors' Fortnight in 2001 with documentary Made In The USA and in Un Certain Regard with Stormy Weather in 2003.
The Together Project was produced by Iceland's Zik Zak with France's Ex Nihilo, and is sold by Le Pacte.
SACD also gave a special mention to Houda Benyamina's Divines.
Europa Cinemas Award
Sacha Wolff's Mercenary (Mercenaire) won the Europa Cinemas Label as Best European film in the Directors' Fortnight section.
It marks the 14th year Europa Cinemas has presented the prize in Cannes and comes with the support of the Europa Cinemas Network, with additional promotion and incentives for exhibitors to extend the film's theatrical run.
The debut feature from La Fémis graduate Wolff is the story of a young man from the Pacific island of New Caledonia, who defies his father to travel to France in an attempt to become a professional rugby player. As he forges a new life, he has to confront the guilt over leaving his loved ones.
Mercenary stars real-life rugby players Toki Pilioko and Laurent Pakihivatau and is produced by Claire Bodechon for Timshel Productions and Jean Bréhat for 3B Productions. Be For Films handles sales
The Label is also awarded in Berlin, Venice, Karlovy Vary, and will be awarded for the fourth time this year at Locarno. Recipients of the Label honoured at Cannes in the past include: Mustang, 12:08 East of Bucharest, La Pivellina, Le Quattro Volte, The Repentant, The Selfish Giant and Les Combattants last year.
Directors' Fortnight
Art Cinema Award to a feature film
Wolf And Sheep Dir. Shahrbanoo Sadat
SACD Award to a French-language feature
The Together Project (L'Effet Aquatique) Dir. Solveig Anspach
SACD special mention
Divines Dir. Houda Benyamina
The Europa Cinemas Label to a European feature film
Mercenary (Mercenaire) Dir. Sacha Wolff
Illy Prize to a short film
Chasse Royal Dirs. Lise Akoka, Romane Gueret
Illy special mention
The Beast (Zvir) Dir. Miroslav Sikavica