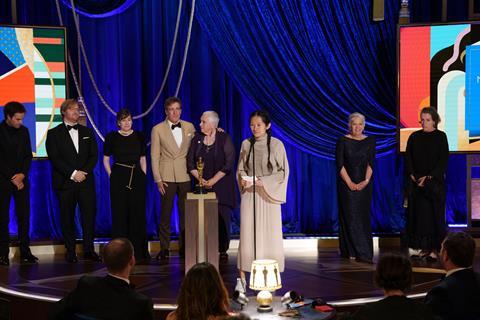 The pandemic may have stripped the 93rd Academy Awards of the usual battery of studio heavyweights and phalanxes of executives and agents, but it could not deny a high-quality crop of gratifyingly diverse contenders from emerging to dominate the final chapter in the most protracted awards season ever.
At the end of an exhausting season, every film and awards show can look back and take pride in how they stuck it out in the face of unprecedented collective adversity. It's a tiny story within the broader context of Covid's horrors, but 14 months after the 2020 ceremony, the 93rd Oscars – at a courtyard and converted hall in Union Station in Los Angeles – reminded everyone of the perseverance, ingenuity and heart that lie behind so much of the film industry.
Stories from the margins of society like Searchlight Pictures' best picture winner Nomadland – which went on to Hulu in the US while cinemas remained closed or severely restricted – became a central part of the conversation this season, and Chloe Zhao's moving feature was embraced early on as a story people wanted to hear. The writer-director Zhao herself is a trailblazer, becoming the first woman of colour to be named best director, and only the second woman after Kathryn Bigelow to win the award in more than nine decades.
With both Zhao and Emerald Fennell, writer-director of Focus Features' revenge story Promising Young Woman, both nominated for best director, it marked the first time in history two women have been nominated in this category. Will 2021 see something approaching gender equality become the norm?
Netflix's Ma Rainey's Black Bottom produced the first Black Oscar winners for make-up and hairstyling in Mia Neal and Jamika Wilson. The pride and pain in Neal's acceptance speech were palpable as she spoke of being raised by her grandfather, a Tuskegee Airman who piloted planes in the Second World War and faced racism at university and as a teacher.
Travon Free became the first Black winner for a live-action short with Netflix's Two Distant Strangers and used his time on stage to talk about police killings of people of colour.
The recent conviction of white former police officer Derek Chauvin for killing George Floyd, a Black man, is a milestone story in the US, where people of colour continue to die at the hands of police officers. Asian Americans have been targeted by those who seek to blame them for the origins of the pandemic, and people continue to be marginalised and abused for their race, colour, sex, and sexual identity.
Sunday's acceptance speeches and the sentiments expressed here and there by presenters reflected the ongoing tension, but also hope, and the desire to stand up.
Regina King, who directed Amazon Studios' One Night In Miami and presented the first award of the night to Fennell, acknowledged as much in her introductory words. "If things had gone differently in Minneapolis [where a jury found Chauvin guilty last week]," King said, "I might have traded in my heels for marching boots."
Producing a film and mounting an awards show is hardly the most pressing matter given what is going on in the world, yet the power of film to be an exemplar endures, and this season in particular one can only hope the stories on screen and the people who told them will inspire others.
Yuh-Jung Youn of A24/Plan B's Minari became the first South Korean actress to win an Oscar and had been a frontrunner all season. Despite her legendary status in her home country, her humility – and sense of humour – was a sight to behold and her triumph keeps her country's flag flying high over the Oscars after last year's triumph for Bong Joon Ho's Parasite.
Supporting actor winner Daniel Kaluuya, who played the murdered Black Panther and Illinois community leader Fred Hampton in Judas And The Black Messiah, co-financed by Warner Bros, Macro, Participant and Bron, referred in his speech to the need to fight for justice.
The common thread running through all these winners is that many of the films they worked on, alongside other nominees, continue to shift the focus away from traditional storytelling tropes shaped by patriarchal white power structures. Those stories remain valid too, but richer is the society that acquaints itself with the many truths of the world around it.
This has been a most unusual season. Every one of the best picture nominees is available to view at home on digital and streaming platforms. Until cinemas return in force, which many believe will happen, that is the way to see these stories.
While there have been ominous rumblings about a low Oscar voter turnout and it remains to be seen how much a field of smaller, more intimate awards contenders can reverse a chronic Oscar show ratings decline, the season has at least provided a more pronounced platform to meaningful stories that strike a chord. That alone should be applauded.