Netflix, Bleecker Street and Landmark announced a partnership on Thursday that will put Netflix's first original film in 19 of the US exhibitor's markets.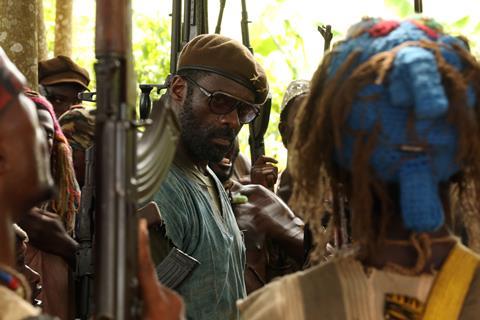 Beasts Of No Nation, which will screen in competition in Venice and go on to play in Toronto after a possible Telluride world premiere, will debut on October 16 in Landmark theatres day-and-date with global streaming in all active Netflix territories.
Landmark theatre markets include New York, Los Angeles, Boston, Philadelphia, Baltimore, Washington DC, Atlanta, Indianapolis, Detroit, Chicago, Minneapolis, Milwaukee, St Louis, Houston, Dallas, Denver, Seattle, San Francisco and San Diego.
Cary Fukunaga directs Idris Elba as Commandant, an African warlord who trains a child to become a soldier in his country's civil war. The film is based on the novel by Nigerian author Uzodinma Iweala.
Amy Kaufman and Fukunaga, collaborators on Sin Nombre, will produce with Daniela Taplin Lundberg, Riva Marker and Dan Crown for Red Crown Productions, along with Elba.
Jeff Skoll and Jonathan King are executive producers for Participant Media alongside Donna Gigliotti for Levantine Films, Elizabeth Koch and Kristina Kendall for New Balloon and Bill Benenson, Laura Bickford and Todd Courtney.