Lionsgate executives have set a July 15 limited launch for Woody Allen's Cannes Film Festival opener.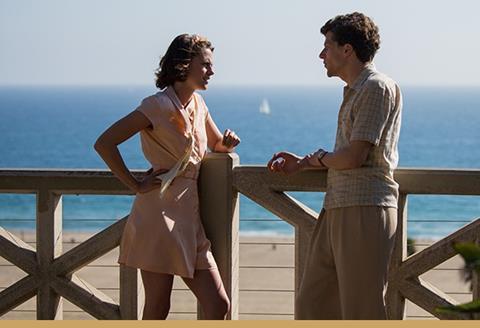 Café Society will expand on July 22 and go into wide release one week after that.
The studio is the distribution partner on the film with Amazon Studios, which has said it will bring titles to its Prime Video customers four months after theatrical release.
Prior to that, there will be an exclusive 90-day theatrical window, followed by a 30-day transactional window, when viewers will be able to watch the film via iTunes and other VOD platforms and can pay for it on Amazon in a stand-alone transaction.
Jesse Eisenberg stars in Café Society as a young man who arrives in 1930s Hollywood in search of fame and fortune and finds love. Kristen Stewart also stars, alongside Steve Carell, Blake Lively, Parker Posey, Corey Stoll, Ken Stott and Jeannie Berlin.
Letty Aronson, Stephen Tenenbaum and Edward Walson produce. The film will premiere out of competition on the Croisette on May 11.
Lionsgate has also dated My Little Pony, which moves up from its original November 3, 2017, date to a wide release on October 6, 2017.