EXCLUSIVE: Curzon strikes deal with EFAs to stream event on VOD platform Curzon Home Cinema.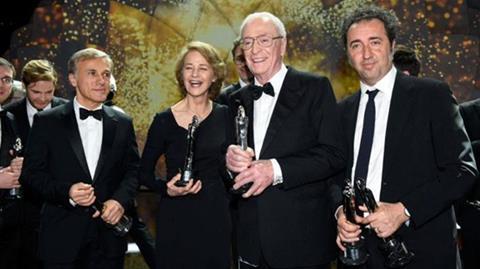 Curzon has entered into an exclusive partnership with the European Film Awards to live screen the ceremony on its UK VOD service Curzon Home Cinema.
The 29th awards will take place on December 10, 2016 from Wroclaw, Poland with nominations announced on November 6 at the Seville European Film Festival.
The stream will be available for UK and Ireland customers of the service.
Marion Döring, director of the European Film Academy said: "Teaming up with Curzon Home Cinema is a new step into the future and in reaching European film loving audiences with the means of our times. We see Curzon as an active mediator for our mission to celebrate and to promote the richness of European cinema."
Director of Curzon Home Cinema Philip Mordecai added: "Partnering with the European Film Awards seemed like a natural fit, our organisations both champion the wonderful cinema produced in Europe and we're proud to be able to bring the ceremony into any home with an internet connection – giving access to all audiences in the UK and Ireland."
Paolo Sorrentino's Youth was the big winner at last year's event, scoring a hat-trick of awards including Best European Film 2015.
Curzon Home Cinema launched its live streaming strand in June with the London premiere of Matteo Garrone's Tale Of Tales.