EXCLUSIVE: Icon has snapped up UK rights to Cannes title which was previously with Metrodome.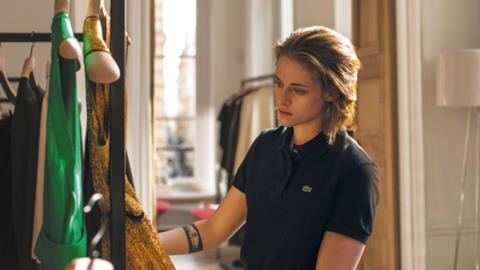 Icon Film Distribution has taken on UK rights to supernatural drama Personal Shopper, starring Kristen Stewart.
Icon will release the Oliver Assayas-directed film in cinemas across the UK and Ireland on 3 March, 2017, following it's UK premiere at the London Film Festival.
Personal Shopper had previously been licensed by Metrodome for the UK and Irish markets but the rights reverted back to sales agents MK2 when Metrodome went into liquidation earlier this year.
In the mysterious ghost story, which won the Best Director Award at Cannes where it debuted, Kristen Stewart plays a high-fashion personal shopper to the stars who is also a spiritual medium. Grieving the recent death of her twin brother, she haunts his Paris home, determined to make contact with him.
Icon has employed the services of former Metrodome (and Icon) employee Chris Lawrance as marketing and publicity consultant on the film. The executive was preparing the film's campaign at Metrodome, which closed its doors two months before the film's scheduled release.
The new March 2017 release date takes Personal Shopper out of BAFTA, 2016, contention.
In a recent interview with Screen, director Assayas heralded Stewart's talent, calling her "the best actress of her generation".
Other Icon Film Distribution titles programmed in this year's BFI London Film Festival include Ben Younger's Bleed for This, starring Miles Teller and Aaron Eckhart, and Pete Travis's City of Tiny Lights, starring Riz Ahmed and Billie Piper.